Photo Gallery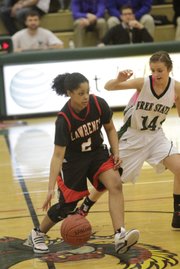 Lawrence High girls vs. Free State
Free State High girls basketball coach Bryan Duncan's message for his team at halftime of Friday's City Showdown was relatively simple.
Increase the defensive pressure on the ball, and the easy baskets in transition will come.
The Firebirds took that to heart, swarming the Lions on the perimeter out of halftime. An 11-0 run to open the half helped the Firebirds open a double-digit lead they wouldn't give up, taking a 55-36 victory on Senior Night at FSHS.
"Once we get running and get up and down the floor, that's when we're at our best," Duncan said.
Coming out of halftime in a 1-2-2 halfcourt trap, the Firebirds forced three LHS turnovers on the first three possessions.
LHS coach Nick Wood said his team just needed to handle the ball better in the second half. The Lions ended up with 21 turnovers, 13 coming after halftime.
"We can't afford to do that, and they took advantage of it," Wood said.
Sophomore Kennedy Kirkpatrick led the Firebirds with 18 points, many of them coming in transition. Junior Lynn Robinson added 17, with 12 coming after halftime.
Senior TaMiya Green led the Lions with 17 points and 10 rebounds. Senior Emily Peterson added seven points and seven rebounds.
Green drew the matchup on Kirkpatrick and hounded her all over the court in the first half. Kirkpatrick said she adjusted by passing to open teammates and setting screens.
The Lions also slowed the pace of the game in the first half, trying to use their height advantage inside. Green scored 10 points in the opening half, many coming on turnaround layups.
But the Firebirds' second-half run was too much, and the Lions couldn't recover.
Wood reminded his players after the game that they couldn't worry about the result long. The seventh-seeded Lions (6-14) travel to second-seeded Olathe Northwest for substate play Thursday.
"The easy thing to do is to feel sorry for ourselves, have three bad days of practice, show up to Olathe Northwest and get beat," Wood said. "The hard thing to do is compete and be a Lawrence High kid and go out there and give them everything we got."
The Firebirds (10-10) will play Topeka High on Thursday in the first round of substate. Since Topeka lost to Manhattan on Friday, the Firebirds will host the game.
Duncan said most coaches would downplay the victory, especially considering it didn't affect the sub-state pairings much. But he was happy to acknowledge that both the spirited environment and the postgame ceremony honoring senior Paige Rothwell were easy to take for granted.
"For one night, it's a special event," Duncan said. "It's great for everybody: fans, players, coaches. Probably everybody but administrators."
Box score
Free State 55, Lawrence 36
LAWRENCE (36)
Brittany Ray 0-2 0-0 0, Emily Peterson 3-13 1-2 7, Tamiya Green 6-13 5-8 17, Kristen Bell 1-1 0-1 2, Christina Haswood 0-2 0-0 0, Natalie Wilkins 0-1 0-0 0, Brianna Anglin 2-6 2-2 6, Kelsey Broadwell 0-1 2-2 2, Krista Costa 1-5 0-0 2, Anna Wright 0-2 0-0 0. Totals 13-46 10-15 36.
FREE STATE (55)
Abbey Casady 2-5 0-0 4, Jackie Garcia 2-3 1-1 5, Kennedy Kirkpatrick 6-11 3-4 18, Lynn Robinson 7-15 1-1 17, Chelsea Casady 2-6 2-2 6, Scout Wiebe 1-3 1-1 3, Courtney Hoag 1-3 0-1 2, Alexa Gaumer 0-2 0-0 0, Ariana Frantz 0-0 0-0 0, Summer Frantz 0-0 0-0 0, A'Liyah Rogers 0-1 0-0 0, Kionna Coleman 0-2 0-0 0. Totals 21-51 8-10 55.
Lawrence 10 10 6 10 — 36
Free State 14 9 21 11 — 55
Three-point goals: Lawrence 0-8; Free State 5-16 (Kirkpatrick 3, Robinson 2). Shooting: Lawrence 13-46 (28.3 percent); Free State 21-51 (41.2 percent) Turnovers: Lawrence 21, Free State 9.
Copyright 2018 The Lawrence Journal-World. All rights reserved. This material may not be published, broadcast, rewritten or redistributed. We strive to uphold our values for every story published.