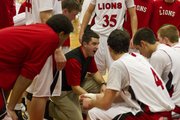 High School Spodcasters
Previewing Friday's Lawrence High-Free State basketball games
Lawrence Journal-World reporters Ben Ward, Clark Goble and Jesse Newell preview Friday's City Showdown basketball games between Lawrence High and Free State.
If the last-second, 61-60 loss to Free State High in the first meeting this year weren't tough enough to digest, the Lawrence High boys basketball team had a bitter reminder the following Monday.
As the Lions readied for practice, they noticed something odd on the court.
A few splotches of green body paint lingered on the hardwood, evoking a flurry of memories from the waning moments of Jan. 25's thrilling matchup.
The hook shot off the hand of Georgi Funtarov that put FSHS on top with six seconds to play. Right before time expired, the floater from LHS junior Logan Henrichs that danced around the rim before falling harmlessly to the floor as a blur of elated Firebird fans stormed the court.
"It happened so fast," LHS senior Garrett Wagner said.
This season, the Lions (7-12) have lost a few games in the final minute.
None of the close defeats stung quite like the loss to the Firebirds (11-8).
"We've circled this date," said LHS senior Trent Edwards of Friday's matchup, which is set for a 7:30 tipoff at Free State. The girls game is set for 6 p.m.
"We've been ready for this day … minutes after we lost that last game. We're ready to go."
No one on either side denied the heated rivalry.
But the players — like LHS junior KJ Pritchard and FSHS senior Evan Manning — have played against each other for years, be it in either gym or at the various parks around the city. They're all at least familiar, if not friendly, with one another.
The mutual respect makes it an amiable rivalry, and that's especially the case Friday night.
FSHS coach Chuck Law and LHS coach Mike Lewis are teaming up for 'Coaches for Cancer' as part of an effort by coaches in the greater Kansas City area to raise more than $100,000 to battle the disease.
The Firebirds and Lions will accept donations at the gate and throughout the night.
Law specifically chose Friday's season finale as the venue for the event, saying he hoped that both fan bases would focus their energy toward rallying around the cause as opposed to being bitter or negative toward one another, which he said takes away from the game.
"People can blog about how generous they were for this great cause," Law said.
The game has virtually no implication as far as sub-state rankings are concerned, as FSHS is locked in as the six seed, and Lawrence High will be either seventh or eighth.
With the first round of sub-state games starting Wednesday, though, both teams are eager to snap two-game losing streaks.
"You'd like to be playing your best basketball heading into sub-states," Law said. "So it's a big momentum game for postseason play as well."
At Wednesday's pre-practice shootaround, the Lions were loose and relaxed, joking as they hoisted jumpers and casually floated in layups.
"Our guys have done a good job of keeping things in perspective," said Lewis, whose seniors Edwards, Jake Johnson, Ross Johnson and Wagner will play in their last City Showdown.
"(They know) there are things we have control of and things we don't."
On the heels of a rough outing Tuesday, the Firebirds appeared a bit more locked in as they prepared for Senior Night, where they'll be without leading scorer Eric Watson, who partially tore his Achilles on Tuesday.
"No single person needs to feel like they need to carry the burden of Eric's absence," said Law, who said his team needs to step up and be aggressive against Lawrence's 2-3 zone.
Watson will be forced to watch from the bench as Free State's three other seniors — Manning, Alec Heline and Austin Hoag — play their final home game.
"To finish it off here against LHS, I can't think of a greater time," Manning said.
Added Law: "I wouldn't be surprised at all if it comes down to the very last possession like it did last time."
Copyright 2018 The Lawrence Journal-World. All rights reserved. This material may not be published, broadcast, rewritten or redistributed. We strive to uphold our values for every story published.