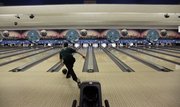 These were no rat clubs competing Tuesday afternoon at Royal Crest Lanes, where the city's best high school bowlers gathered for a dual between Free State and the host, Lawrence High. Strikes and ringing ten-burners abounded. Barely a sour apple was thrown all day.
When the talent level is high, expectations tend to keep pace. So when Free State senior Justin Walthall opened with a four-bagger in his second game, nobody in the house seemed to think much of it. It was just Walthall throwing rocks again. When Walthall put his sixth consecutive "X" on the sheet, McKenzie Dever, bowling the next lane over, remembered to zip it.
A bowler beyond the halfway point of a potential perfect game is treated with the same reverent distance as a pitcher in pursuit of a no-hitter. Nobody wants to jinx them.
"Usually you don't say anything, but I've kind of have a bad trend of accidentally saying something like, 'Oh, six strikes in a row. Good job.' And then they miss it in their seventh," Dever said. "It's kind of bad luck. I learned my lesson. I didn't say anything today and I think it paid off, so that was good."
Walthall again blew a rack in the seventh frame. Now passers-by took notice. Some spectators reflexively took a step or two backwards, as if to protect the vibes surrounding the accomplished lefty bowler. Then came the eighth consecutive strike, not a garbage hit among them.
He had spot-bowled his way — aiming for the 14th board, between the second and third arrows from the left — to eight strikes down and four to go.
Conversations grew softer, again out of respect for Walthall's cone of karma. The late Howard Cosell, wherever he was at the moment, could almost be heard bellowing, "He ... could ... go ... all ... the ... way." No bench work whatsoever. This is a friendly rivalry, particularly in bowling because most of the players see each other during league play Saturday mornings. Besides, everybody wanted to witness a slice of bowling history because to witness something is to take an ownership share of it.
Walthall took his seat. Nick Conrad, Free State's co-anchor, did what he had been doing every frame, exchanging light banter with him. As Conrad got up from his chair, he rubbed Walthall's head and measured his shot.
Now it was Walthall's turn. The foundation frame awaited. The tension in the house mounted. He locked on his target, the 14th board, and dropped it down. Something didn't look quite right. It was neither a creeper nor a frozen rope. The speed was right in the 14.6-to-15 mph range Walthall considers ideal. But the angle. Something about the angle didn't look quite right. Nine pins fell. The seven pin won Walthall's stare-down with history. The crowd broke into an ovation for a fight well-fought. He finished with a 278, one pin off his personal-best, achieved several times.
"Once I laid it down, I had a feeling it was going to be a tough strike," said Walthall, who bowled games of 214, 278 and 192 for a 684 series. "Just a heart-breaker. It's all about hitting your mark and I didn't hit my mark."
Walthall did a nice job of keeping his eye on the prize.
"I honestly was so focused in on my own game I wasn't paying any attention to anybody else," he said.
Walthall is a pitcher in Free State's loaded baseball program.
"It's exactly the same," he said of how a bowler seeking perfection is treated by teammates, as compared to a pitcher. "Every now and then you say, 'That was a good ball,' or (in baseball), 'That was a good pitch.' But you kind of like leave the guy alone."
Lefties are in demand in baseball because of the trouble left-handed hitters have hitting their breaking balls. In bowling, southpaws also have the advantage because most bowlers are right-handed and the repetitive pounding to the right side of the lane.
"There's oil out there and no one else is messing with my oil," Walthall said, explaining why the cakes are always cheesier for lefties. "Everyone else has to play with two or three other people."
While Walthall's second game sizzled suspense, the varsity team competitions didn't. The Free State girls outscored the Lions, 2,161-1,952. The Firebirds boys defeated LHS, 2,390-2,159.
Lions lefty Riley Gentry, who led his team with a 606 series, one pin better than Austin Bennett, admires Walthall's abilities in the alleys and on the mound.
"He has a really clean shot and he strikes a lot," Gentry said of Walthall. "He doesn't try to throw a fancy hook or with tow hands. It's jut a down-and-in shot and he's really accurate with it. He has a really relaxed clean shot and it doesn't really look like pressure gets to him in either sport."
In the girls competition, Free State's Alyson Butler started out on fire with games of 217 and 201 before faltering with a 142 for a 560 series, one pin shy of her personal best. Michelle Schieffer — the way she consistently picks off the 10 pin, you need to see it to believe it — had a 531 series with a 201 second game. Dever, performing with more consistency of late than in mid-season, improved with each game in bowling a 528 series (165-181-182).
Lawrence High's Kierstan Warren could have used a dose of such consistency, but did wow the crowd by finishing her day with a 214 after struggling to a 104 in the second game.
Different mental methods work for different bowlers. Dever repeats a mechanics mantra — "Extend my arm, sloooooooow down, hit my mark" — with each throw.
Butler sings a song in her head, the same song, over and over: "Just the Way You Are" by teen idol Bruno Mars. Assistant coach Tyler Bradshaw suggested singing a song for improving focus and head coach Anita Carlson sang along with Butler the first time she tried it.
"It sounds kind of dumb, singing a song while you're bowling, but for me at least, it helps a lot," Butler said. "Even if I try to switch songs, it will go back to that one."
As for Walthall, he didn't have any reason to look back on his day and want to change anything. He was amazing, just the way he was.
Copyright 2018 The Lawrence Journal-World. All rights reserved. This material may not be published, broadcast, rewritten or redistributed. We strive to uphold our values for every story published.