A few education-oriented items from around the area: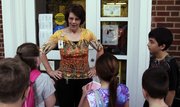 A number of folks have been sure to remind me that all this talk about the potential for closing elementary schools next year should not be limited to the effects on the three schools being studied: Cordley, Pinckney and Wakarusa Valley.
Any displaced students would have to go somewhere, of course. And that would mean plenty of change, for everyone — students, parents, teachers, staffers, supporters and on and on — involved.
Members of the Lawrence Elementary School Facility Vision Task Force know this. Several asked Rick Doll, superintendent of the Lawrence school district, about the district's "transition process" for dealing with changes.
"The best example I can give is our recent experience with moving some students from Kennedy to New York, which went very smoothly," Doll said, in a note to task force members.
Doll provided members with a memo written by Nancy DeGarmo, principal at New York, detailing some of the transition activities her school employed beginning less than a year ago — leading up to and through the fall transfers.
A few things that worked:
• Bringing some Kennedy teachers over to New York, so that kids who switched schools could "see a familiar face the first couple weeks of school." Such teachers also helped families feel more comfortable.
• During a "Character Counts" assembly in September, each class designed a shield to use when entering the gym. "We had a very formal entrance where all of the classes were introduced and we formally recognized that we are 'New York Knights.' " Teachers were instructed to no longer refer to "Kennedy kids" or a "Kennedy teacher," but instead to regard everyone as New York Knights. "This simple change of language brought us all together."
You can read the memo for more. It may be worth noting that neither New York nor Kennedy closed, and that students who might be displaced from Cordley, Pinckney or Wakarusa Valley likely would be headed to several different schools.
Members of the task force meet at 5:30 p.m. Monday at district headquarters, 110 McDonald Drive. Recommendations are due to the Lawrence school board a week later.
•••
It certainly will be interesting Monday night to see what consensus the task force can reach. Among the options:
• Identify two schools to recommend for closure for next year, from the list of three candidates: Cordley, Pinckney and Wakarusa Valley.
• Identify one school to close for next year, from the same list.
• Recommend whether to close one or two schools, but not select which one or ones.
A fourth option, as yet unaddressed by the task force, could involve simply forwarding all their information — data and reports and values and criteria and everything else they've compiled during the past eight months — to the school board for consideration.
It's certainly possible.
As task force member Steve Glass said during last week's meeting, which fell short of consensus on anything except plans to meet again: "Ultimately, we need to have a vote. That's the only way we're going to be able to see what consensus is."
•••
Last week I spoke with Mark Bradford, vice president of the school board, about the task force's work and ongoing push toward consensus.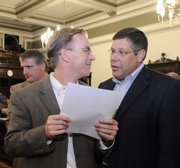 As we discussed potential school closings, Bradford said he would wait to see the task force's recommendations. But he was clear about his preference for approaching such decisions at the board level.
He posed a hypothetical question to illustrate his point.
Which, he said, would be better:
• Keeping all schools open, with part-time staff, reduced programs and fewer resources?
• Closing a school or schools, so that all remaining schools could have full-time nurses, counselors, administrators, librarians and others to handle ongoing or even new programs?
"Is it better to have two buildings with all the services in there part-time, or is it better to have one building and have all those services — and maybe then some — for kids, in one building instead of two?" Bradford said. "If you have a million dollars, is it better to spend a half-million in two buildings, or is it better to have a really well equipped, very safe, very technically built building, to really maximize all those issues?"
He answered his own questions.
"I think it's better to build quality that will last for many years, than to just go piecemeal: put a roof there, an elevator over here, something else over there," he said. "That just doesn't make sense to me."
Bradford is in line to become board president this summer, when at least three new board members will be joining him following elections April 5.
— The First Bell e-mailbox is always open: mfagan@ljworld.com.
Copyright 2018 The Lawrence Journal-World. All rights reserved. This material may not be published, broadcast, rewritten or redistributed. We strive to uphold our values for every story published.