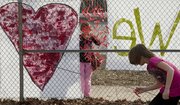 Members of the Lawrence Elementary School Facility Vision Task Force failed to reach a consensus Monday night on whether to recommend closing one or two elementary schools next year, opting instead to decide that issue next week.
Task force members spent the majority of their 90-minute meeting discussing whether they had enough support to recommend closure of two of these three schools: Cordley, Pinckney or Wakarusa Valley.
Some members said that two schools should be closed, saying that money saved could be pumped back into programs that could do the most for providing effective education districtwide.
Others said that closing two schools would be too much, putting too much pressure on remaining schools and eroding support for a future bond issue — one that would be expected to address renovations, additions and construction projects that all task force members acknowledge as necessary.
The group will meet again at 5:30 p.m. Monday at district headquarters, 110 McDonald Drive, in an attempt to reach consensus, the group's stated plan since its appointment in May to create a "community vision" for elementaries amidst fiscal restraints.
Whether the task force will be able to come up with a plan that generates enough support from among its two dozen members remains to be seen.
"Ultimately, we need to have a vote," said Steve Glass, a task force member, as about 50 observers — principals, school board members, board candidates, parents and others — looked on. "That's the only way we're going to be able to see what consensus is."
Task force members did affirm their consensus reached tentatively two weeks ago on a longer-term approach, one that would consolidating four schools into two within three to five years: Kennedy and New York, as well as Hillcrest and Sunset Hill.
Future bond issue
Making those changes, along with financing upgrades to all remaining elementaries districtwide, would require passage of a bond issue. And that prospect came up during task force discussions about potential closures for next year.
Rich Minder, who is president of the Lawrence school board and co-chairman of the task force, suggested recommending closure of one school next year: Wakarusa Valley. The school, located on 10 acres just southeast of Clinton Lake, could be used as a community center for the rural area and still be owned by the district and retained for potential reopening in the future, he said.
Both Cordley and Pinckney would be better candidates to remain open, Minder indicated, citing student walkability, neighborhood stability and other factors within the task force's goals related to urban design.
Besides, he noted, there's a political angle related to keeping the two schools — particularly Pinckney, whose attendance area includes homes west of downtown, between Sixth and Ninth streets — open.
"We're going to be floating bond issues, and I want folks in Old West Lawrence behind this bond," Minder said during the meeting. "That's just as plain as I can put that."
But other task force members threw their support behind closing two schools, although such talk never advanced to the point of selecting which ones.
Chuck Warner, a former bank president, reasoned that closing two schools could be achieved without overcrowding remaining schools, given the planned move of sixth-grade classes into middle schools for next year. The reduction in expenses then could be channeled into new or expanded programs — such as full-day kindergarten districtwide — or toward filling budget holes to be opened next year and beyond by cuts in state financing.
Protecting the insides
Closing schools isn't as much about saving money, Warner said, as it is about protecting teachers, programs and other educational efforts.
"It's a decision about where cuts are going to have to be made," he said. "I've become convinced that instruction, … in the long run, has a much greater effect on our kids than the building. If we say, 'Close no schools,' then what we're saying is, 'It's got to happen inside the classroom.' And I can't bring myself to do that."
Warner said closing two schools next year, and then consolidating four schools into two schools within three to five years, would do the most good for the long term.
Mike Neal, the task force's moderator, told members to be ready to decide next week whether to recommend closing one or two schools next year. Two weeks ago, members already had agreed by consensus that maintaining the "status quo" was not an option.
The task force's final recommendations are due to the Lawrence school board Feb. 28. Any decisions about closing schools would be up to the board.
Andrew Lees, a Pinckney parent who attended the meeting, said he was relieved that no specific decisions about recommendations were reached Monday night.
"Healthy deliberation towards a better decision is better than a hasty decision based only on the numbers," he said afterward.
Jen Nelson, a leader of the Science, Technology, Engineering and Math Committee at Wakarusa Valley, noted that while most of Monday's discussions involved money, the district's own numbers show that closing Wakarusa Valley would save the least amount of money.
The task force process — launched months ago, to be based on research and "best practices" — sure sounds more like politics at work, she said.
"For some reason there's a great push to reach a consensus that doesn't exist," Nelson said. "They're pushing for a consensus that's not there."
Copyright 2018 The Lawrence Journal-World. All rights reserved. This material may not be published, broadcast, rewritten or redistributed. We strive to uphold our values for every story published.