Photo Gallery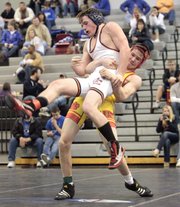 2011 6A regional wrestling
Olathe — Not many Lawrence High wrestlers celebrated after hoisting their regional champions plaque Saturday at Olathe Northwest.
They smiled for a picture or two, sure, but they didn't linger around the gym. Instead, the Lions packed up their gear, tossed on their letter jackets and got back in the white vans in the parking lot.
There's more work to be done.
The regional championship was just the second checkmark next to the Lions' three goals: winning the Sunflower League championship, the regional tournament championship and the state championship. So if the Lions were happy about their victory, they certainly didn't show it.
Ten Lions and six wrestlers from Free State qualified for the state tournament in Wichita by placing in the top four in their respective weight classes.
Five Lions won individual regional championships: Garrett Girard (103 pounds), Hunter Haralson (119), Andrew Denning (145), Reece Wright-Conklin (171) and Ben Seybert (189). Free State's Spencer Wilson (160) also won a regional title.
The Lions got the result they wanted Saturday, but LHS coach Pat Naughton admitted that he was a little nervous after the first round of matches.
Six Lions had first-round byes, but four other wrestlers lost first-round matches to Free State wrestlers.
That meant those four would have to win their next two matches in the consolation bracket in order to qualify for state.
It also meant elusive team points were slipping away.
"Talk about a slow start," Naughton said. "We come out and we just won league, and you think you're on a roll, and all of a sudden, half of your team is asleep back in Lawrence."
Naughton, who was named regional coach of the year after the meet, told his team during the break between rounds that it needed to wake up. His wrestlers responded, picking up 82 points in the next round and jumping from sixth to first in the overall standings.
Junior Jacob Von Feldt (125) epitomized the Lions' turnaround, losing to Free State's Maurice Jacobs in the first round but pinning Topeka's Marcus Reece to qualify for state.
"I'm pretty sure that halfway through the season, he didn't think he would ever be going down to Wichita," Naughton said.
Von Feldt, who was 4-16 coming into Saturday, said experienced wrestlers like Wright-Conklin and Cameron Magdaleno kept him motivated before the match.
And after the momentous win, Von Feldt shocked everybody by pinning Olathe East's Connor Leach, taking third place and adding five more points to the Lions' total.
"It was really nice to be able to help the team there," a beaming Von Feldt said.
Wright-Conklin pinned Olathe East's John Blazevic at the end of the first period to remain undefeated at 33-0. He was named regional wrestler of the year, but Naughton thinks he hasn't wrestled his best match yet.
"We still haven't seen him be as dominant as he can be," Naughton said.
Free State coach Mike Gillman was ecstatic after six Firebirds earned trips to Wichita. The Firebirds qualified one wrestler last season.
"They're buying into the program," Gillman said. "It's uphill from here."
Free State's Spencer Wilson trailed, 8-7, in the 160-pound championship match against Lawrence High's Magdaleno, but scored a takedown with 12 seconds remaining to secure the 9-8 victory.
"I just knew I had to finish that," Wilson said. "I didn't really know how much time was left."
Both teams are excited for the trip to Wichita, but for different reasons. The Lions figure they have a shot at winning, and the Firebirds are happy that they have a solid group of wrestlers driving down instead of just one individual.
Naughton said that his team's schedule this season — which included the Eudora Tournament of Champions and the Newton Invitational — prepared his team for the two-day hotel stay and the long weekend of wrestling to come.
"Now you're down there, and now let's see what you can do," Naughton said.
The state tournament starts Friday at Hartman Arena in Wichita.
Copyright 2017 The Lawrence Journal-World. All rights reserved. This material may not be published, broadcast, rewritten or redistributed. We strive to uphold our values for every story published.