A few education-oriented items from around the area: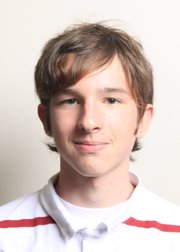 A senior at Free State High School is a state winner of a 2010 Siemens Award for Advanced Placement, a signature program of the Siemens Foundation administered by the College Board.
Alex Becker, the son of Neal Becker and Ann Cudd, joins Rosemary Liu, a senior at Olathe East High School, among 98 students nationwide to be named state winners in the program, which recognizes "top achievers" in AP science and math courses.
Becker receives a $2,000 scholarship.
"These students lead the nation in performance on AP math and science courses and we are proud to support them as they strive for excellence," said Jeniffer Harper-Taylor, president of the Siemens Foundation, in announcing the winners.
Here are some facts about Becker, according to the foundation:
• Total AP courses taken to date: four
• Favorite AP class: Physics B
• Notable accomplishments: National Merit Semifinalist; Washburn Math Day Top Score; Gold and Silver awards in Science Olympiad State Competition.
• Plans for College Study: Mathematics and physics, chemistry, computer science.
• Career aspirations: Undecided.
• Hobbies: Theater tech; skiing; math team
• What sparked your interest in science and math? Calculated radius of first confirmed black hole after reading Roger Penrose's "The Road to Reality" in elementary school.
Nice work, Alex.
•••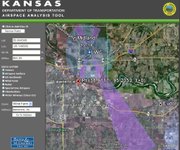 Perhaps Alex might want to cruise on over to Eudora this morning, where members of Scott Keltner's math class will be trying out a first-of-its-kind "Airspace Awareness Tool" devised to calculate and visualize placement of wind turbines, cell towers, tall buildings and other projects near airports.
At 8:15 a.m., officials from the Kansas Department of Transportation and Burns & McDonnell will conduct a public demonstration of the tool at Eudora High School, 2203 Church St.
The tool — akin to a Google Earth application — allows users to enter latitude and longitude information of where something might be proposed: a building, a bridge, an antennae, anything. The user then determines its size.
The program then would calculate just how the project would exist, complete with visuals from all angles and in concert with every possible airspace restriction out there.
Translation: Developers can see how their project might affect a flight path, or an Instrument Landing System approach, or any other zone regulated by the FAA or other such officials — and, more importantly, tell the developer where to seek permits to clear a path for the project.
"This is the first of its kind (nationwide)," said Jesse Romo, who has been working on the project as manager for federal/state communication in KDOT's Division of Aviation. "It's going to catch like wildfire."
But first, Keltner's math students will be taking it out for what amounts to a test flight. The class already is working with the engineering school at Kansas State University to put up a wind turbine at Eudora High School, and the tool will give them a chance to see how it might fit into airspace requirements.
Besides, Romo said, they'll be able to see their own math expressed in three dimensions on screen — even though the computer will be doing all the calculations.
"We've made it too easy, huh?" Romo said, with a laugh.
The tool is about "90 percent" complete, Romo said. The finished version will be set for proverbial takeoff on KDOT's website in two to three months.
•••
Elementary students are out of school today in the Lawrence school district, and its clearly not for inclement weather. The day is reserved for teachers to handle "recording" and "reporting."
Up next week: parent-teacher conferences.
So don't worry, parents. There won't be any need to make this one up.
But don't forget: While it appears that elementary and junior high students won't need to be making up any "extra" lost time because of weather — remember, everybody will be in school April 15 and April 29, the district's scheduled makeup days — any future snow day could mean tacking extra minutes onto the end of the day or days for students.
So stay warm, weather.
— The First Bell e-mailbox is always open: mfagan@ljworld.com.
Copyright 2018 The Lawrence Journal-World. All rights reserved. This material may not be published, broadcast, rewritten or redistributed. We strive to uphold our values for every story published.