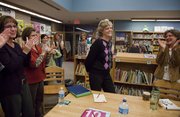 Anne Tormohlen embraces having "the best job in the building" at Deerfield School.
"I get to work with everybody," the school's library media specialist said. "I do. I know all 528 kids. I've known most of them since kindergarten, and it's fun. That's the best part."
On Tuesday, Tormohlen learned she also is among the best educators in the Lawrence school district, as winner of the 2010-11 Lawrence Elementary Teacher of the Year award.
The honor arrived after school, when a crowd of administrators, friends, colleagues and others filed into a staff meeting to see her smile, deflect praise and collect a $1,000 check from program sponsor KU Credit Union. Soon, someone will take her photo, for display at district headquarters.
"I'm mortified by that," she said, mortified by the idea that her mortification would be shared in the newspaper.
Tormohlen is in her 20th year at the school, 101 Lawrence Ave., where she's been library specialist for the past nine years and has taught fifth and sixth grades during the previous 11. Before that, she'd taught for three years at the former Riverside School.
Deerfield teachers and staffers nominated Tormohlen for the honor, citing her use of "standards-based" lessons that allow for "perfect" transitions into future classroom work, providing an appropriate and welcome lightening of teachers' collective classroom loads.
"She is not the only backbone of support for our children and their literary needs, but shows true compassion for each individual child," her colleagues said, in their nomination letter. "We pride ourselves on reading achievement at Deerfield, and we would not be able to excel and reach our goals without Anne in our library."
Rick Doll, district superintendent, lauded Tormohlen for her work with all teachers and all students.
"It's obvious that we made the right call," he said.
The district now will nominate Tormohlen for Kansas Teacher of the Year, a program of the Kansas State Department of Education.
The district also plans to honor a 2010-11 Lawrence Secondary Teacher of the Year later this year.
Copyright 2018 The Lawrence Journal-World. All rights reserved. This material may not be published, broadcast, rewritten or redistributed. We strive to uphold our values for every story published.