Photo Gallery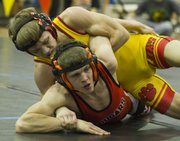 Sunflower League wrestling
Prairie Village — For at least a day or so, Lawrence High's wrestling team will be able to celebrate, and deservedly so.
Highlighted by first-place finishes from Hunter Haralson (119 pounds), Andrew Denning (145) and Reece Wright-Conklin (171), the Lions captured their first Sunflower League championship in five years on Saturday at Shawnee Mission East.
The Lions huddled around the podium and posed for photos as they were awarded the trophy, even cracking a few smiles, but Monday it's back to business.
After all, the Lions are only a third of a way to their ultimate goals, coach Pat Naughton said.
"We want to win league, we want to win at regionals (next week), and we want to win at state," Naughton said. "So we've got one down in the Triple Crown, so to speak."
The Free State High team's aspirations weren't quite as lofty, but the Firebirds turned in a solid effort en route to a tie for seventh place with Olathe East.
Drew Botello (103), Ben Soukup (135), Mitch McCune (145) and Spencer Wilson (160) each placed fourth for the Firebirds, who drastically improved from their last-place finish a season ago.
Botello, though somewhat disappointed in his fourth-place finish, attributed much of Free State's success to first-year coach Mike Gillman.
"I think he's taught us way more than what everybody expected him to do," Botello said.
Andrew McLees (130) and Sterling Ozark (275) each won three matches and placed fifth for the Firebirds.
"I'm pumped for both schools," Gillman said. "It's a good day for Lawrence."
The Lions turned in solid, if not dominating efforts from nearly every weight class.
After two resounding victories, 103-pounder Garret Girard took second place after being outpointed, 4-3, in the finals.
Haralson dominated his first two matches with quick pins, so he wasn't entirely thrilled with a 5-0 win in his final match.
Denning pinned each of his foes with relative ease, and despite slip-ups in the semifinal round, Ben Seybert (189) and Brad Wilson (215) each went 3-1 on the day and finished third.
Cameron Magdaleno muscled his way to the finals at 160 pounds, but was outpointed, 9-5, by powerful SME junior Blake Hill, who downed Free State's Wilson in the semifinals.
It took Wright-Conklin – the undefeated, top-ranked 171-pounder in class 6A – less than a minute to pin each of his first two opponents, leaving him with little to do but lounge around the gym.
Once he finally returned to the mat, SME's Blaine Hill proved quite a challenge.
Wright-Conklin emerged with a 5-3 decision, but spent the majority of the final two periods on the mat, struggling to free himself from the heavily muscled Hill's grasp.
"I was a little disappointed with how I wrestled," said Wright-Conklin, who said it was the first time he was held down all year. "But next time I see him, I'll be ready."
Naughton also singled out others, such as Austin Magdaleno (fourth at 130) and Macon Ezell (third at 152), for their strong performances.
"If we didn't have those guys come through for us today, we're not walking home with that trophy," Naughton said.
What's true for both the Lions and the Firebirds is that next weeks' regional tournament holds more importance; only the top four finishers at each weight class qualify for states.
"It's great that the guys were all in position," Gillman said. "Now we just need to finish."
Naughton, whose Lions took 10 to state last season, said he aims for all 13 wrestlers to make it this year, and, accordingly, the Lions are ready to work.
"Nobody's getting it easy these next couple of weeks," Wright-Conklin said.
Copyright 2018 The Lawrence Journal-World. All rights reserved. This material may not be published, broadcast, rewritten or redistributed. We strive to uphold our values for every story published.