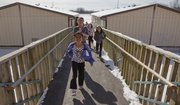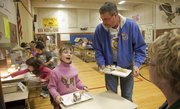 Officials acknowledge that the next bond issue in the Lawrence school district will address needs in the district's elementary schools: eliminating portables, adding classrooms, fixing roofs, remodeling kitchens and embarking on dozens of other projects — large and small — considered necessary to bring equitable and effective educational opportunities to all students in grades kindergarten through five.
Such a goal is poised to emerge later this month from the district's Lawrence Elementary School Facility Vision Task Force, tasked with recommending short- and long-term plans for addressing the district's educational needs while grappling with dwindling finances.
One inherent problem: A bond issue is no sure thing.
"It's a huge risk," said Jessica Beeson, a task force member and parent of two kids at Cordley School, one of three schools being studied by the group for recommended closure next year.
Voters, of course, always have the final say in district business: They elect school board members, who have appointed the task force, whose members have spent months coming up with a vision for the future.
But bond issues are about money. And without money, the long-term recommendations of the task force would be in jeopardy.
School board member Mark Bradford, for one, isn't worried.
"If we come up with a quality bond issue, with the input of the task force … I think it would go through without a hitch," said Bradford, who is in line to become board president in June. "We need to start looking at that now. We need to have very specific plans lined out, with what the bond issue would do, and what the outcomes of that bond issue would do."
Bond issue
For now, the task force is concentrating on a two-tiered approach to its school sites and buildings:
• Next year, consider closing one or two of three elementary schools: Cordley, 1837 Vt.; Pinckney, 810 W. Sixth St.; and Wakarusa Valley, 1104 E 1000 Road. Such a move or moves would not require a bond issue but would be expected to help the district save money as it receives less revenue from the state.
• Within three to five years, consider consolidating four schools into two: Kennedy, 1605 Davis Road, and New York, 936 N.Y., in eastern Lawrence; and Hillcrest, 1045 Hilltop Drive, and Sunset Hill, 901 Schwarz Road, in central Lawrence. Such moves would mean expanding one or two current locations, or building entirely new schools, with the idea of saving money on operations by replacing smaller schools with larger, more efficient ones.
Consolidating schools would mean spending money, and that would require voter approval.
Scott Morgan, a board member and co-chairman of the task force, figures that voters would be receptive to a comprehensive bond issue that addresses the district's long-term needs. All elementary schools would get at least some upgrades as part of such a plan, he said.
And with previous bond issues starting to roll off the books in the next few years, he said, the district could seek millions of dollars in authority for renovations and construction without anyone's property-tax rates increasing beyond current levels.
"We've done the secondary schools," he said, referring to previous bond issues approved by voters. "Now we need to pony up for the elementary schools, and we can do that without raising taxes."
Voter approval
But officials should be cautious when pursuing that line of thinking, task force member Beeson said.
Eight years ago, voters rejected a proposed $59 million bond issue that would have consolidated schools, renovated others, and financed additions that would have enabled elimination of portable classrooms at Broken Arrow, Deerfield, Hillcrest, Kennedy, Quail Run, Sunset Hill and Wakarusa Valley schools.
That financing push lost at the ballot box, a rejection Beeson attributed in large part to voters' distaste of earlier closures of Centennial, Grant and Riverside schools.
She fears the same thing could happen this time around, should the board push to close more than one elementary school next year.
"Then, all of our hopes and dreams for having new schools are just gone," she said. "And all those schools just continue to be falling apart and everything else. Portables stay up."
Beeson just wants to be sure that the task force recommends options that can be supported by data, grounded in viable goals and achievable in a community that embraces education.
Chris Bay, in his 11th year as principal at Sunset Hill, figures the task force is on the right track. He wishes such planning had been needed "for decades," but should serve the community well in the months and years ahead.
"One of the great things about working in Lawrence as an educator is that Lawrence is an education community," he said. "We've got KU. We've got Haskell. And Lawrence public schools have a great reputation.
"This community is an education community. If a bond issue is crafted that makes sense, and it's respectful of taxpayer money, I think the community would support it."
Copyright 2018 The Lawrence Journal-World. All rights reserved. This material may not be published, broadcast, rewritten or redistributed. We strive to uphold our values for every story published.