Photo Gallery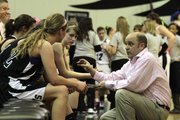 Free State girls basketball vs. Olathe Northwest
If basketball was solely based in how well you could shoot it, Free State High's girls basketball team might have fared much better on Friday.
Despite shooting at nearly a 50 percent clip, the Firebirds fell, 76-65, at Olathe Northwest after an off night in a few other crucial areas.
There were the 22 turnovers, nearly three times the Firebirds' average.
"(The Ravens) probably caused about half of them," FSHS coach Bryan Duncan said. "The other half were one-handed passes, sloppy passes, maybe tired passes. And those are the ones you can't make."
There were also the 18 offensive rebounds, which Raven scorers Mackaela Carter (18 points) and Jaylah Jackson (16 points) and 6-foot-3 Michaela Crull capitalized upon.
"The truth is, they're really not much bigger than us," Duncan said. "They were just more aggressive."
Perhaps most lopsided, though, was the disparity in fouls: the Ravens (13-2) shot 30 free throws to the Firebirds' eight.
Part of that can be attributed to FSHS — led by Alexa Gaumer's 20 points and six rebounds — being a jump shooting team.
At one point during the game, Duncan said, an official told him the Firebirds weren't being "strong enough" with the ball to warrant calling a foul.
"That's not acceptable," Duncan said. "A foul is a foul. If there's a foul, they call a foul."
In the end, though, Duncan wasn't making excuses for his Firebirds (9-8) who led, 35-32, at the half after the hot shooting of Gaumer and Lynn Robinson (11 points).
"Coach Duncan always tells me, 'Keep shooting, keep shooting,'" Gaumer said after her 6-for-6 night from behind the arc.
Kennedy Kirkpatrick notched a double-double with 16 points, 10 rebounds and four assists, and Courtney Hoag — in her first career start — tallied nine points and four blocks to lead FSHS into the fourth quarter with a 58-57 lead.
The Ravens, who were already in the double bonus barely a minute into the quarter, jumped ahead after two baskets from Carter and never looked back.
"I figured it would come down to the very end," Duncan said. "At the end, they made a few plays on the defensive end and we didn't."
Box score
Olathe Northwest girls 76, Free State 65
FREE STATE (65)
Jackie Garcia 0-1 0-0 0, Kennedy Kirkpatrick 5-13 2-2 16, Lynn Robinson 4-9 3-3 11, Courtney Hoag 4-7 1-1 9, Chelsea Casady 1-8 0-0 2, Scout Wiebe 1-1 0-0 3, Abbey Casady 2-5 0-0 4, Alexa Gaumer 6-6 2-2 20. Totals 23-50 8-8 65.
OLATHE NORTHWEST (76)
Mackaela Carter 5-10 6-8 18, Ashlyn Landherr 2-7 2-2 7, Vashti Neal 5-11 6-6 19, Jaylah Jackson 7-19 1-2 16, Madi Haney 2-5 1-1 5, Michaela Crall 1-7 7-12 9, Hannah Kovarik 1-3 0-0 2. Totals 23-61 22-30 76.
Free State 16 19 23 7 — 65
O-Northwest 17 15 25 19 — 76
Three-point goals: Free State 11-22 (Gaumer 6, Kirkpatrick 4, Wiebe); Olathe NW 7-16 (Neal 3, Carter 2, Landherr, Jackson). Fouled out: Free State — Hoag. Shooting: Free State 23-50 (46 percent); Olathe NW 23-61 (37.7 percent). Turnovers: Free State 22, Olathe NW 12.
Copyright 2018 The Lawrence Journal-World. All rights reserved. This material may not be published, broadcast, rewritten or redistributed. We strive to uphold our values for every story published.