Photo Gallery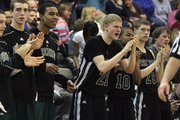 Free State boys basketball vs. Olathe Northwest
Olathe — Only a few weeks ago, the close ones seemed to slip away from the Free State High boys basketball team.
Late leads against talented teams like Leavenworth, Olathe East, and Blue Valley North were harshly and suddenly flipped into close defeats.
Coach Chuck Law knew his team needed a glimpse of the other side; a feeling that they were supposed to win against the Sunflower League's best.

He got just that on Friday night, when the Firebirds turned in perhaps their best all-around game this season, stunning Olathe Northwest, 57-43.
"They believed," Law said. "They executed the game plan to a 'T.' I couldn't be more proud."
After the Ravens scored to open the game, the Firebirds (10-6) answered with eight straight points and never looked back.
Senior Eric Watson carried the scoring load early, slashing his way to the basket for 14 first-half points, which propelled FSHS to a 28-22 halftime lead.
"They weren't cutting me off," said Watson, who finished with 20 points and seven rebounds. "So I figured I'd just take it all the way until they stopped me.
Part of that involved drawing 6-foot-9 ONW standout Willie Cauley away from the basket by forcing him to guard Georgi Funtarov (15 points), a more than capable perimeter jump shooter.
"You can't have 6-foot-10 with a 7-foot wingspan, aircraft carrier at the basket," Law said of Cauley, who still snared 10 rebounds and blocked six shots. "You're not going to get a lot done in there (otherwise)."
The Firebirds held onto a 38-33 lead through the third quarter, when they staved off Shavon Shields' (24 points) best efforts.
Shields opened the fourth with a driving layup and the foul, pulling the Ravens (12-3) to within three points.
Yet, in a situation that had been the tipping point earlier this year, the Firebirds never faltered, unfazed by the roaring crowd and antagonistic defenders.
"We know we can play with these teams," senior Alec Heline said. "It was a matter of coming through this time."
Heline (eight points) calmly knocked down a mid-range jumper, and Brett Frantz (13 points) sunk five straight as the Firebirds weathered the Ravens' rally.
Seniors Evan Manning and Austin Hoag didn't score, but each pulled down seven rebounds and played sound defense.
"That's the best four minutes of basketball we've played all season," Law said.
Though Shields continued to hit shots and will the Ravens back into the game, the Firebirds — led by Watson, Heline and Frantz — hit their free throws to earn what they called their "signature win" of the season.
"That's resolve, that's resiliency, that's senior leadership," Law said. "And that's why we won tonight."
Box score
Free State 57, Olathe Northwest 43
FREE STATE (57)
Georgi Funtarov 6-16 1-2 15, Brett Frantz 3-3 6-7 13, Austin Hoag 0-4 0-0 0, Eric Watson 11-14 1-2 20, Evan Manning 0-3 0-0 0, Alec Heline 3-4 2-3 8, Tyler Self 0-1 0-0 0, Shawn Knighton 0-1 1-2 1. Totals 23-46 11-16 57.
OLATHE NORTHWEST (43)
Davis Reid 2-9 0-0 5, Trey Bales 4-11 0-0 10, Austin Fisher 0-4 0-0 0, Shavon Shields 9-21 3-6 24, Willie Cauley 2-7 0-0 4, Graham Dobbins 0-2 0-0 0, Sam Power 0-1 0-0 0. Totals 17-54 3-6 43.
Free State 11 17 10 19 — 57
O-Northwest 8 14 11 10 — 43
Three-point goals: Free State 4-15 (Funtarov 2, Frantz, Watson); Olathe NW 6-25 (Shields 3, Bales 2, Reid). Shooting: Free State 23-46 (50 percent); Olathe NW 17-54 (31 percent). Turnovers: Free State 8, Olathe NW 11.
Copyright 2018 The Lawrence Journal-World. All rights reserved. This material may not be published, broadcast, rewritten or redistributed. We strive to uphold our values for every story published.