On the street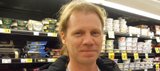 No, I don't. I don't really have a reason, I just think it's unnecessary.
Topeka — A bill introduced in the Kansas House would require every newborn in the state to be genetically tested to identify the child's father.
State Rep. Melody McCray Miller, a Democrat from Wichita, says the bill is intended to help men who have been named as a child's father, or who want to know if they are the child's father. The bill would also apply to married couples who have several children.
The bill says a court could intervene if someone refused to take the test or have it administered to the baby.
McCray told The Hutchinson News that the cost of the tests would not be added to the hospital bill, but she didn't know the financial impact of the legislation.
Copyright 2018 The Associated Press. All rights reserved. This material may not be published, broadcast, rewritten or redistributed. We strive to uphold our values for every story published.