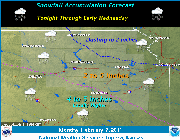 Kansas weather updates, via Twitter
Wednesday, 6:14 a.m. update
The National Weather Service has allowed the winter weather advisory to expire. It's possible that light snow will continue falling until noon Wednesday.
Now we face bitterly cold temperatures through Thursday, with wind chill values expected to drop to -10 to -15 degrees.
Wednesday, 5:41 a.m. update
A few school districts in our area have closed Wednesday due to the snow, and light snowfall is possible through the Wednesday morning hours. The winter weather advisory is set to expire at 6 a.m.
The Kansas Department of Transportation reported these highway conditions in Douglas County as of 4:20 a.m.:
Interstate 70 — Spots snowpacked
Kansas Highway 10 — Mostly snowpacked
Kansas Highway 32 — Completely snowpacked
U.S. Highway 24 — Mostly snowpacked
U.S. Highway 40 — Mostly snowpacked
U.S. Highway 56 — Mostly snowpacked
U.S. Highway 59 — Mostly snowpacked
Wednesday, 2:30 a.m. update
An estimated two inches of snow has fallen on Lawrence since the precipitation began Tuesday. City road crews have been working to treat clear streets of the powdery accumulation but roads are still slick in spots.
No major accidents have been reported in the area as a result of the snowfall.
The winter weather advisory is set to expire at 6 a.m. today.
Tuesday, 8:44 p.m. update
Main roads in town have been reported to be snowpacked but not too slick. Drivers should still allow extra stopping distance as a precaution.
K-10 highway from Lawrence to Eudora was also reported to be mostly clear, though a fine snow is blowing across the roadway.
Tuesday, 8:25 p.m. update
Snow is falling in Lawrence to the tune of what the National Weather Service predicts will be anywhere from 1-3 inches.
The light but steady snow accumulation has resulted in some slick roads around town, though so far no serious injury accidents have resulted from the conditions. Snowfall is expected to stop before midnight.
Along with the precipitation, temperatures are also expected to fall. The NWS is currently predicting the overnight low to be about 2 degrees, with windchill making it feel more like -5 to -10 degrees.
Tuesday, 3:13 p.m. update
Though we still have yet to see snow in Douglas County, the National Weather Service is still predicting we'll get 2-4 inches by Wednesday morning.
Overnight temperatures are expected to drop into the single digits, with wind chill values between -6 and -11 degrees.
Tuesday, 7:54 a.m. update
A winter weather advisory remains in effect until 6 a.m. Wednesday, according to the National Weather Service.
Look for snowfall to begin Tuesday morning in Lawrence. The NWS predicts we could see accumulations of 1-4 inches by Wednesday morning.
Tuesday, 2:00 a.m. update
According to reports issued by the National Weather Service, Lawrence can expect a 30 percent chance of snow overnight with wind chills between negative 5 and zero degrees.
There is an 80 percent chance of snow Tuesday, which could accumulate to about an inch. Snow should continue through Tuesday night with another 1 to 2 inches possible.
Wind speeds of 5-10 miles per hour are also expected.
Monday, 3:05 p.m. update
Lawrence is in for another snowy Tuesday this week, and the city is expected to get 3 to 5 inches of snow.
The National Weather Service issued a winter weather advisory for 6 a.m. Tuesday to 6 a.m. Wednesday. The advisory includes an estimate about the snow and also says winds will be 10 to 20 mph with gusts up to 20 mph.
"(The storm) shouldn't be quite as bad as the last one," said Kelsey Angle, NWS meteorologist.
Angle said the storm was coming to the area from the Rockies, and the snow should be heaviest Tuesday afternoon and evening.
Tom Orzulak, street divisions manager, said the city was preparing as it usually does for storms.
"It's the same stuff, different day," he said. "It has to snow first."
Orzulak said he had a crew ready to go at midnight.
Despite this year's storms, Angle said the region is below last year's snow totals. He said by this time last year, Topeka had received 29 inches of snow. This year, the area is at 26.
There is relief coming. Temperatures are expected to warm up about 50 degrees by Sunday.
One group doesn't seem to mind the weather Lawrence is getting. Robins are flocking in the area, but birdwatcher Stan Roth says the Kansas weather is balmy to them.
"They're migrants from the north," said Roth, a birdwatcher and retired Lawrence biology teacher. "We seem to be getting lots and lots of robin flocks here in Lawrence."
He said the robins that are in Lawrence during the spring are south in Texas now, and Lawrence started getting robins from the Dakotas and Saskatchewan in October.
Check back with LJWorld.com for updates.
Copyright 2018 The Lawrence Journal-World. All rights reserved. This material may not be published, broadcast, rewritten or redistributed. We strive to uphold our values for every story published.