A deputy police chief in Wichita has removed his name from the list of finalists for Lawrence police chief.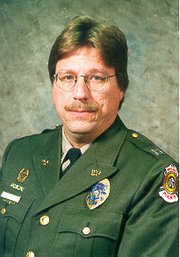 Tom Stolz said Monday that he had withdrawn his name from consideration, based mainly on the effect the state budget crisis is having on the prospect for teaching jobs. He said he visited with Lawrence and area school officials, who painted a bleak picture for being able to hire teachers in the next two years.
Stolz's wife, who teaches in the Renwick district west of Wichita, has been in the profession for 24 years.
"After much thought and discussion, I will not ask my wife to give up her teaching tenure and career even to get what I deem to be the best chief of police job in the state of Kansas," Stolz wrote in a letter to David Corliss, Lawrence's city manager.
Stolz, who heads Wichita's investigations division, was one of five finalists the city publicly identified in January. He said he notified Lawrence officials of his decision before Thursday's interviews because he did not want the city to incur expenses on his behalf.
The remaining four finalists are Brian Jackson, a Lincoln, Neb., police captain; Mark Kessler, an Overland Park deputy chief; Tarik Khatib, Lawrence's interim chief; and Clark Morrow, an Olathe police captain.
The city has been looking for a new police chief since Ron Olin, who led the department since 1987, retired from the city in September and became the director of security and internal controls at Kansas Athletics Inc.
The four candidates are scheduled to be in Lawrence Thursday, and members of the public can meet them during an open house from 6 p.m. to 7 p.m. at the Carnegie Building, 200 W. Ninth St.
The candidates also are scheduled to tour Lawrence that day and interview with committees that include members of the public, city employees and other officials. Corliss said he expected to announce his choice for chief later this month.
After the open house, Corliss said members of the public are encouraged to provide confidential e-mail feedback to dcorliss@lawrenceks.org on the candidates, provided that the messages include the community member's name and contact information in case any follow up conversation is needed.
Copyright 2018 The Lawrence Journal-World. All rights reserved. This material may not be published, broadcast, rewritten or redistributed. We strive to uphold our values for every story published.