Photo Gallery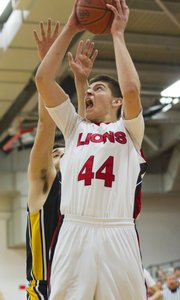 LHS boys vs. Shawnee Mission West
Junior KJ Pritchard admitted that his team's loss to city rival Free State just about sucked all the momentum out of the Lions.
An unusual nine-day layoff, two snow days and lethargic practices certainly didn't help.
So maybe Friday's convincing 66-52 victory over Shawnee Mission West on Friday at LHS is a big push in the right direction.
"I think it says a lot about us and where we're going to go," Pritchard said.
Pritchard scored the first nine points for the Lions (5-9), who jumped to a 9-3 lead.
They led, 14-11, at the end of the first quarter.
To open the second quarter, the Vikings (8-6) switched into a triangle-and-two defense, designed to limit Pritchard and junior Anthony Buffalomeat.
The intense defensive pressure didn't really bother Pritchard.
"I knew my teammates would be there," Pritchard said.
And they were there, especially at the end of the first half. Senior Trent Edwards hit a three-pointer from the top of the key as the buzzer sounded, giving the Lions a 27-22 halftime lead.
The defense did seem to affect Buffalomeat, at least for a while.
"I couldn't even get open for the whole first half, it felt like," Buffalomeat said.
He found plenty of space in the second half, ending the game with 18 points and 10 rebounds. He said that assistant coach David Schneider is always pestering him about getting more rebounds in practice, so he just carried that over into the game.
LHS coach Mike Lewis knows Buffalomeat is key to his team's success, especially when the other team seeks to eliminate Pritchard.
"He's really been playing well lately," Lewis said. "He's really starting to figure out how good he can be."
And the Vikings didn't do a good job containing Pritchard, either. His 19 points gave him the most for the Lions. The Vikings were led by junior Mitch Witter's 24 points and nine rebounds.
The Lions are also starting to figure out how to play their 1-2-2 half-court trap, introduced during the Capital City Classic in Topeka. Pritchard and Buffalomeat love the defense because it creates fast-break opportunities.
Senior Jake Johnson was named Winter Court King before the game, only adding to the Lions' happiness afterward.
"He's a guy you look forward to seeing at 3:30 every day," Lewis said of Johnson.
Overall, it was a bounce-back kind of night for the Lions, who face a difficult February schedule filled with road games in historically tough environments. The Lions will travel to Shawnee Mission East on Tuesday and Olathe East on Friday.
Box score
SHAWNEE MISSION WEST (52)
Matt Smith 3-9 0-0 7, Preston Felgate 1-8 2-2 5, Mitch Mansour 3-8 4-6 11, Derrian Henderson 0-1 1-5 1, Mitch Witter 9-10 6-9 24, Nick Thayer 0-0 1-2 1, Jeff Fetzer 0-1 0-0 0, Kyle Summers 0-1 0-0 0, Jay Temaat 1-2 0-0 3, Jacob Schnackenberg 0-0 0-0 0, Mitch Wade, 0-0 0-0 0. Totals 17-40 14-24 52.
LAWRENCE (66)
KJ Pritchard 7-18 4-4 19, Shane Willoughby 1-3 0-0 2, Anthony Buffalomeat 5-9 6-6 18, Logan Henrichs 2-4 3-6 9, Jake Johnson 0-1 0-0 0, Ross Johnson 0-2 0-0 0, Garrett Wagner 3-4 0-0 6, Derby Miller 3-4 0-2 6, Brad Strauss 1-2 0-0 2, Trent Edwards 1-1 1-2 4. Totals 23-48 14-20 66.
SM West 11 11 14 16 — 52
Lawrence 14 13 19 20 — 66
Three-point goals: Shawnee Mission West 4-18 (Smith, Felgate, Mansour, Temaat); Lawrence 6-18 (Buffalomeat 2, Henrichs 2, Pritchard, Edwards). Shooting: Shawnee Mission West 17-40 (42.5 percent); Lawrence 23-48 (47.9 percent). Turnovers: Shawnee Mission West 13, Lawrence 6.
Copyright 2018 The Lawrence Journal-World. All rights reserved. This material may not be published, broadcast, rewritten or redistributed. We strive to uphold our values for every story published.