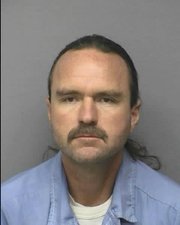 A Lawrence man with ties to a self-styled Ku Klux Klan group who was convicted in 1996 of a Jefferson County murder faces a parole hearing in March.
Even if Michael Dean Wilkins, 39, is granted parole for his first-degree murder conviction in the 1993 shooting death of 25-year-old David Shipley, Wilkins still faces about 11 years of prison time for convictions of conspiracy and aggravated robbery in the case, according to court records.
A judge after the verdict ordered Wilkins to serve his sentences consecutively. The Kansas Supreme Court in 1999 threw out his conviction for a count of conspiracy to commit robbery saying his acts were part of one conspiracy to kill and rob Wilkins.
Authorities also alleged Wilkins took a necklace from Shipley.
"In brief, Wilkins' 1996 convictions involved murder, sex, drugs, and the Ku Klux Klan," wrote Justice Carol Beier in a decision on a 2007 appeal in the case.
According to news reports and court records, Wilkins, an inmate at the Lansing Correctional Facility, was known as an "enforcer" for the Klan group that started in Davenport, Iowa, but had recruited members, including teenage girls, in Lawrence.
Wilkins shot Shipley, a fellow member, in the head with a .22-caliber rifle. Prosecutors said the killing was based on an order from the group's leader, Mike Bittle, who eventually reached a plea deal with prosecutors and testified against Wilkins.
According to the department of corrections, Bittle served eight years in prison for a conspiracy conviction and died in 2008 while he was on parole.
Authorities believed Bittle and Shipley had differences over girls and money from the sale of motorcycles. Witnesses said Shipley threatened to tell police about Bittle's marijuana growth operation. Shipley's remains were found in 1996 in a rural pond on property owned by Wilkins' family in southeastern Jefferson County.
The department of corrections is accepting comments from the public on Wilkins' first-degree murder conviction. His hearing will be in March before the parole board makes a decision in April.
Comments can be made at the corrections website, www.dc.state.ks.us. The website also has forms that can be filled out and mailed to the parole board.
Copyright 2015 The Lawrence Journal-World. All rights reserved. This material may not be published, broadcast, rewritten or redistributed. We strive to uphold our values for every story published.