Photo Gallery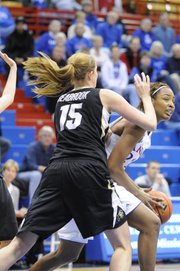 KU women vs. Colorado
Related document

KU-Colorado women's box score ( .PDF )
Related document

Kansas women's basketball Stats through Feb. 2, 2011 ( .PDF )
Throughout the history of women's basketball at Kansas University, fewer than two dozen players have scored 1,000 points in a career.
Wednesday night, during the Jayhawks' 81-53 freeze-out of Colorado at Allen Fieldhouse, KU senior Krysten Boogaard joined the club, becoming the 21st female Jayhawk to crack 1,000 points with an eight-point, seven-rebound effort in the win.
In reaching the milestone, something she did with a free throw in the second half, Boogaard joined some impressive company. Names like Lynette Woodard, Angela Aycock, Tamecka Dixon, Lynn Pride and Danielle McCray all crossed that bridge before Boogaard, though you'd hardly think she considers herself part of that elite company.
"It just feels really good to be a part of that amazing group of women," Boogaard said. "And I just want to thank my teammates throughout the years for getting me the ball."
Wednesday's victory was about much more than Boogaard's memorable night. It snapped a five-game conference losing streak, gave the KU its second Big 12 victory of the season (both against Colorado) and, perhaps most importantly, reminded the Jayhawks what it felt like to win again.
"No one's happier to get out of January than us," said KU coach Bonnie Henrickson, whose team had not won since playing at Colorado on Jan. 12. "We want to go into February here and make a run."
KU's latest victory was never in doubt as the Jayhawks raced out to leads of 15-3 and 31-19 en route to a 46-27 halftime lead.
Sophomore guard Monica Engelman continued her hot shooting, finishing 4-of-7 in the first half and 5-of-9 for 14 points for the game. So, too, did sophomore forward Carolyn Davis, who bounced back from last Saturday's nine-point, one-rebound letdown against K-State to lead KU with 20 points on 8-of-10 shooting.
Freshman Keena Mays also got in on the act. Starting in place of Aishah Sutherland, a move made to give the Jayhawks more quickness against the smaller CU squad, Mays sank seven of eight shots and finished with 16 points.
Wednesday's 28-point victory was the second largest Big 12 victory in KU history and the biggest win since KU topped Baylor by 30 points in January of 1997.
KU (15-7 overall, 2-6 Big 12) will hit the road for a 2 p.m. Saturday matchup at Texas.
Copyright 2018 The Lawrence Journal-World. All rights reserved. This material may not be published, broadcast, rewritten or redistributed. We strive to uphold our values for every story published.