A few education items that aren't too cool for school:
The United Way of Douglas County's board of directors plans to target three community goals beginning in 2012.
Topping the list: "Children and teens are successful in school."
(The others: "People of all ages have access to physical and mental health care," and "People have steady jobs and financial stability.")
"United Way is best known for annually inviting the community to invest in community solutions," said Tom Christie, the president of the chapter's board. "As issues continue to grow, United Way is working to adapt to a vibrant community with dynamic needs. We are looking at needs and determining future funding based on a community-wide lens that relies on several different components."
Board members settled on the three goals after conducting a survey to gauge current community interests; convening focus groups to analyze community priorities; and reviewing community data focused on health, education and self-sufficiency.
Continuing through this spring, the United Way will be working with its community partners and "issue experts" to come up with strategies.
"No one organization or strategy will achieve these outcomes," said Erika Dvorske, United Way president and CEO, and member of the Lawrence Elementary School Facility Vision Task Force. "But by mobilizing community resources and building partnerships, which is United Way's mission, we think we can make progress on Douglas County's most pressing community issues."
Anyone interested in helping come up with strategies is invited to attend the organization's Community Impact Brainstorm Session, set for 4 p.m. to 5:30 p.m. Wednesday at Plymouth Congregational Church, 925 Vt.
During the session, attendees will start in a large group and then break out into smaller groups to work on strategies.
Anyone unable to attend may participate through United Way's group page on WellCommons.
•••
An organization that provides services to children with special needs who are up to 3 years old is planning a fundraising event next weekend.
The organization, tiny-k Early Intervention, will conduct "Sweets & Seats" at 6:30 p.m. Feb. 12 at Steve's Place, 1388 N. 1293 Road. The location is along the west side of the extension of Louisiana Street just south of Lawrence's city limits, immediately south of 31st Street.
The event will offer dozens of chairs — each one carrying a theme and/or prize packages — to be auctioned, with proceeds to benefit tiny-k programs, including free screenings for all children and families with potential special needs. All services are provided free of charge, often working with a team that includes teachers, occupational therapists, physical therapists, speech-language pathologists and a person responsible for service coordination.
Premier sponsor for "Sweets & Seats" is Pediatric and Adolescent Medicine. Tickets — which include two drink tickets and dessert — are $25 in advance or $35 at the door.
For more information or to purchase tickets, visit tiny-k's website, DouglasCountytinyk.org.
•••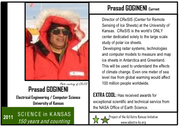 An organization working to boost students' interest in "STEM" — that's science, technology, engineering and math — is putting some big names in the field on some small cards.
The Ad Astra Initiative, which describes itself as a 10-year-old grassroots organization with the purpose of celebrating science in Kansas, has created a collection of trading cards featuring prominent scientists, engineers and investors with Kansas ties.
Among them:
• Cora Downs, who was the first woman to receive a doctorate at Kansas University, taught there for 46 years and whose work helped explain how infections develop.
• Elmer McCollum, who earned two chemistry degrees from Kansas University and is credited with discovered vitamins A and B, and finding that vitamin D prevents a bone disease known as Rickets.
• Prasad Gogineni, who is director for the Center for Remote Sensing of Ice Sheets at KU, the world's only center soley dedicated to the large-scale study of polar ice sheets.
Also featured: Gary Burrell and Min Kao, co-founders of Garmin; and Clyde Tombaugh, a KU graduate who discovered Pluto.
The cards may be downloaded at the organization's website, AdAstra-ks.org.
— The First Bell e-mailbox is always open: mfagan@ljworld.com.
Copyright 2018 The Lawrence Journal-World. All rights reserved. This material may not be published, broadcast, rewritten or redistributed. We strive to uphold our values for every story published.