Photo Gallery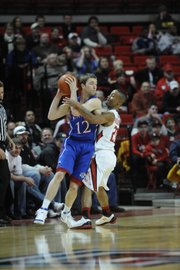 KU vs. Texas Tech
Press Conferences & Post-Game Interviews
KU coach Bill Self
Kansas coach Bill Self talks to reporters following the Jayhawks' 88-66 victory over Texas Tech on Feb. 1, 2011.
Zenger on the job
New Kansas University athletic director Sheahon Zenger spent his first official day on the job Tuesday with KU's basketball team.
"I am thrilled to be on board," said Zenger, who was introduced as KU's A.D. on Jan. 2 and split time the past month in Normal, Ill., where he completed his stint as Illinois State's A.D., and Lawrence.
"As I said at the press conference, you take it one day at a time, one person at a time, one step at a time," Zenger added.
He said the past month was a bit challenging.
"The logistics of it are kind of hard on the body," he said. "I am one who enjoys driving, working behind the steering wheel, making phone calls and whatnot. The driving back and forth was a perfect time for me. It was a little strange carrying two briefcases, one from each school. The people at the two institutions made it real easy."
Of Tuesday, he said: "There's a lot of different ways to spend your first day (on the job). To spend it with the men's basketball team, the coaching staff and administrators on the road lets you immediately feel like part of the family."
Snow rush to leave
The Jayhawks, who originally planned to leave Lubbock after the game, remained at their hotel for a second night because of poor weather conditions in Texas and Kansas.
"We weren't going to risk anything. School is closed tomorrow, so no sense hustling back," said KU associate AD Sean Lester, noting KU's charter plane was in San Antonio with no de-icing available in Lubbock. "Wheels up at 10:30 or 11 (a.m. today)."
More on Robinson
KU sophomore Thomas Robinson told Foxsports.com he remains deeply concerned about his 7-year-old sister, Jayla, following the Jan. 21 death of their mom, Lisa.
"Right now, we're still finalizing that. I'm not sure what's going to happen yet," Robinson said of whether Jayla will continue living in D.C. with her dad or move to Lawrence. "I appreciate all the people that want to help, but at the same time I still have the responsibility to take care of my sister," added Robinson, who told Foxsports he barely knows Jayla's dad.
"The toughest part has been seeing my sister. She's just a kid. I don't know what she's thinking. I think she understands what happened somewhat, but not to the full extent," Robinson said.
Of losing his grandmother, grandfather and mom within the span of a month, he said: "It's unbelievable, beyond words, how tough it's been. But what doesn't kill you makes you stronger," Robinson said.
Injuries
Self said Tyrel Reed (three points, 1-5 shooting) has "a tender foot. A sore foot. It's been bothering him. But he's OK."
And Tyshawn Taylor (no points, three assists, 25 minutes) sprained his ankle with eight minutes left and didn't return. Self said it was just a slight sprain.
Larry, Larry
Kentucky center Josh Harrellson caused a bit of a stir when he told the Lexington Herald-Leader that visiting Hall of Fame coach Larry Brown had input in practice.
Brown, who was let go by the Charlotte Bobcats in late December, was in Lexington last week to check in on his former KU assistant, John Calipari, second-year coach of the Wildcats.
"He'll even stop drills like coach Cal does and put his input in," Harrellson said. "It's great having a legendary coach here building us and helping us out."
The Herald-Leader suggested that might be an NCAA violation, but UK compliance officials said they are confident no rules were broken.
Mayo update
Todd Mayo, a 6-3 senior from Notre Dame Prep in Fitchburg, Mass., may have KU on his list, Zagsblog.net reports. Mayo, who is originally from Germantown, Tenn., has been considering Marquette, West Virginia, Baylor, Providence, Memphis, Tennessee and Louisville. He is the younger brother of NBA player O.J. Mayo.
Copyright 2018 The Lawrence Journal-World. All rights reserved. This material may not be published, broadcast, rewritten or redistributed. We strive to uphold our values for every story published.