Photo Gallery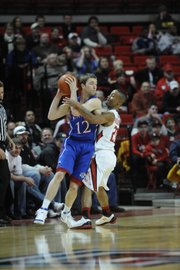 KU vs. Texas Tech
Press Conferences & Post-Game Interviews
KU coach Bill Self
Kansas coach Bill Self talks to reporters following the Jayhawks' 88-66 victory over Texas Tech on Feb. 1, 2011.
Lubbock, Texas — The atmosphere in Texas Tech's United Spirit Arena was not exactly electric on Tuesday night.
"Dead," is how Kansas University junior Marcus Morris described the Red Raiders' building, which had just 9,055 fans in the seats for the Jayhawks' 88-66 victory.
Not many fans braved a bitterly cold, wintry night, not exactly typical for Texas.
"It was hard to get prepared," Morris added. "For what we're used to ... every game is packed. The history here of coach (Bill) Self not winning ... we expected it to be a packed house. It wasn't."
The Jayhawks didn't exactly come out without energy. KU rolled to leads of 17-4, 23-8 and 30-12.
Kansas led, 50-29, at halftime and coasted to its 21st win in 22 tries. KU improved to 6-1 in league play. Tech, meanwhile, dropped to 11-12, 3-5.
It marked Self's first victory as KU coach in Lubbock after three defeats.
"We discussed it," Self said of KU not winning in Lubbock since 2003. "I remember last time we were here afterwards chewing our guy, saying, 'Oh by the way, Oklahoma lost at Missouri. Congrats, you guys are Big 12 champs.' It wasn't a euphoric locker room. We needed to win here because we hadn't done it yet."
Of the lack of fans, Self said: "Our guys ... we've got a unique group. They are spoiled. They play better when there's an atmosphere. Tonight with the weather, there wasn't going to be an atmosphere. I'm sure it hurt Tech, but it didn't help us much, either. I didn't think we played with unbelievable emotion, but were efficient."
Marcus Morris scored 18 points, while Thomas Robinson had 17 (with nine boards), Josh Selby 14 points, Brady Morningstar 12, Markieff Morris 11 (with 12 boards) and Mario Little nine.
"It came up a few times," Robinson said of Self's squads never winning in Lubbock. "It's nothing we based our game plan on. Of course we were aware of it. Coach has done so much for us. We had to come here and break that curse if you call it that."
Morningstar — he had 10 points the first half — noted that it was a bit surprising there was no full house to watch the No. 2-ranked Jayhawks.
"Sometimes you have to learn to create your own energy," Morningstar said. "I was a little surprised when I walked on the court and didn't see a full house. It happens sometimes when the weather is bad. You've got to create your own energy. Starting the game and shooting like we did (57.9 percent first half) really helped a lot."
Freshman Selby, who hit six of 12 shots with four assists, noted the atmosphere "shocked" him.
"The history between Kansas and Texas Tech ... coach Self never winning here ... I thought it'd be more pumped," he said. "We were shocked, but had to play with confidence."
Selby said he has been a new player since a talk with Self after the Texas game.
"It helped my confidence," he said. "Since then, I've been fine."
Is he back to the "old Selby?"
"I know people are used to me dunking more. I'll get back to it," he said with a smile.
KU will meet Nebraska at 3 p.m. Saturday in Lincoln, Neb.
Copyright 2018 The Lawrence Journal-World. All rights reserved. This material may not be published, broadcast, rewritten or redistributed. We strive to uphold our values for every story published.