Photo Gallery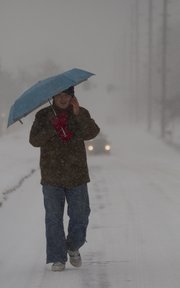 Jan. 31 - Feb. 1 winter storm
Here is a list of closings and cancellations for Wednesday, Feb. 2, 2011:
School districts
Lawrence USD 497
Baldwin USD 348
Basehor-Linwood USD 458
De Soto USD 232
Eudora USD 491
McLouth USD 342
Oskaloosa USD 341
Ottawa USD 290
Perry-Lecompton USD 343
Santa Fe Trail USD 434
Shawnee Heights USD 450
Tonganoxie USD 464
Wellsville USD 289
West Franklin USD 287
Other schools
Kansas University — Edwards campus
Kansas University — Lawrence campus
Bishop Seabury Academy
Baker University — Baldwin City campus closed
Baker University — School of Nursing in Topeka closed
Century School
Corpus Christi Catholic School
Googols of Learning Child Development Center
Haskell Indian Nations University
Hilltop Child Development Center
Kid's Choice Christian Daycare
Lawrence Montessori School
Montessori Children's House
Ottawa University — campus closed
Pinnacle Career Institute — Morning and evening classes canceled
Prairie Moon Waldorf School
Raintree Montessori Scool
St. John Catholic School
Veritas Christian School
Government, businesses and organizations
State offices in Topeka — closed Wednesday. Non-essential state employees have the day off.
1109 Gallery — closed
Americana Music Academy — closed
Ballard Center — closed
Brookcreek Learning Center — closed
Berry Plastics is opening at noon Wednesday
Bert Nash Community Mental Health Center
City of Lawrence transit service — paratransit service for medical necessity/dialysis only
Cottonwood, Inc. — closed
Dignified Doggies — all day and evening classes canceled
Douglas County CASA
Douglas County Bank — opening at 9 a.m. (all locations)
Douglas County Dental Clinic — closed all day
Douglas County Senior Services, Senior Wheels transportation and Senior Meals dining rooms and home-delivery services are canceled.
Eudora Municipal Court
Family Church of Lawrence — Evening Activities Cancelled
G-Force Athletics - no evening practices or classes
Habitat for Humanity offices — closed
Haskell Health Center
Health Care Access
Heartland Medical Clinic
Independence, Inc. — closed and all rides canceled
Internal Medicine Group — weather-essential staff for emergencies only
Kansas City Metro Social Rehabilitation Services has closed all offices for Wednesday. This includes offices in Johnson, Wyandotte, Leavenworth, Douglas, Franklin and Miami counties.
Kansas Legislature — suspended Wednesday
Kansas Legal Services — Lawrence and Topeka offices closed
K-Mart Distribution Center's 1st and 2nd shift should not report
Kretyen Fair Trade Gifts and Coffee
KVC Behavioral Healthcare — closed
KU on Wheels/Park and Ride — no service
Both Lawrence locations of La Petite Academy
Lawrence Apple Users' Group meeting — canceled. Topic rescheduled for March
Lawrence Arts Center — Closed, all classes canceled
Lawrence-Douglas County Health Department — opening at 1 p.m.
Lawrence Gymnastics — all evening classes canceled
Lawrence Internal Medicine — weather-essential staff emergencies only
Lawrence Parks and Recreation — all classes, programs aquatics and evening events canceled, all facilities closed
Lawrence Public Library — Open at 1 p.m. Wednesday
Leavenworth County offices — closed
Older Women's League (OWL) meeting canceled
Prairie Park Nature Center — no classes
Professional Treatment Services — opening at noon
Social Security Administration Office — closed
Sunflower Curbside Recycling
Recovery and Hope Network — closed
The Shelter, Inc.
UNI Computers — opening at 11 a.m. if weather permits
Yoga Center of Lawrence — Kim's 8:30 a.m. introduction to yoga, 10:15 a.m. level II class and 1:15 p.m. ageless class are canceled.
Events, activities and churches
All-City Choir Concert — will NOT be rescheduled
Cornerstone Southern Baptist Church
First Southern Baptist Church
Ghost Bird screening at the KU Natural History Museum — rescheduled for Feb 9 at 7 p.m.
St. John the Evangelist Catholic Church — all Catechesis of the Good Shepherd sessions canceled
Unity Of Lawrence Church — closed
Copyright 2018 The Lawrence Journal-World. All rights reserved. This material may not be published, broadcast, rewritten or redistributed. We strive to uphold our values for every story published.