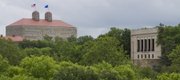 Subscribe to the email edition of Heard on the Hill and we'll deliver you the latest KU news and notes every weekday at noon.
Your daily dose of news, notes and links from around Kansas University.
• A KU student will have the opportunity to perform a master class with the master cellist Yo-Yo Ma.
Hyerim Jeon, a student originally from Seoul, South Korea, who is pursuing a doctor of musical arts degree in cello performance, was one of three students — one from KU, one from UMKC and another from Park University — to perform the class next month, coinciding with a Kansas City Symphony/Yo-Yo Ma concert in January at the Kauffman Center.
The funny thing was, according to a KU statement, Jeon had tried to get tickets to the concert, but they were already sold out.
She was one of many students who participated in the 2011 summer music festival in Eutin, Germany.
That's pretty spiffy.
• Thanks to a tipster who alerted me to a fun kerfuffle up in Iowa that former KU journalism professor David Perlmutter is involved in.
He's now director of the journalism school at the University of Iowa, where one of the professors, Stephen Bloom, wrote a lengthy essay in the Atlantic that wasn't too kind to the state.
The Des Moines Register picked up on this choice quote.
"The piece said people who remain in rural Iowa 'are often the elderly waiting to die, those too timid (or lacking in education) to peer around the bend for better opportunities, an assortment of waste-toids and meth addicts with pale skin and rotted teeth, or those who quixotically believe, like Little Orphan Annie, that 'The sun'll come out tomorrow.''"
The governor apparently hated it, as did Iowa President Sally Mason (formerly KU's dean of the College of Liberal Arts and Sciences).
Perlmutter is taking the academic-freedom route so far — a path I imagine most in academia would appreciate.
"I'm nobody's editor. I'm nobody's publisher," Perlmutter told the Des Moines Register. "We don't want the kind of system where somebody has to send me something before it gets published, and I'm supposed to censor it or tell them whether they can publish it. I believe in freedom of speech and academic freedom, and it works 99.9 percent of the time. Freedom of speech and freedom of the press can be painful sometimes in the execution, but it's a desperately important principle that we always need to stand up for."
• Here's an amusing story about how the Robert Redford beetle got its name. It involves KU doctoral student Crystal Maier, according to this statement from Montana State University.
She and two other researchers said they named the beetle, Hydroscapha redfordi, after Redford because they initially thought the place they found the beetles was named after a Redford character.
They also wanted to honor his environmental work.
They had to fight some skinny dippers when they found the beetles, but they eventually corralled them.
"We got to the spring, and I think that we must have searched for almost 20 minutes before we found a single one," Maier said in the statement. "None of us really knew exactly what kind of search image we should have, nor where exactly we should be looking.
"I guess that it didn't help that there were people bathing not 50 feet away from us," she continued. "Anyway, we finally spotted one. Imagine spotting a one-millimeter-long beetle in green algal goop on an almost vertical rock face. Then there they were, in the hundreds."
You can see a photo of the Robert Redford beetle at the link. I can see a little resemblance, maybe.
• Reading Heard on the Hill is worth fighting through skinny dippers, too. Keep it that way by sending me some good tips at ahyland@ljworld.com.
Copyright 2018 The Lawrence Journal-World. All rights reserved. This material may not be published, broadcast, rewritten or redistributed. We strive to uphold our values for every story published.