Hundreds of volunteers helped dish out a free Christmas dinner Sunday to anyone who cared to partake of the Lawrence Free Community Christmas Dinner.
Photo Gallery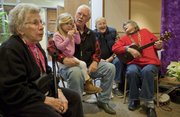 Community dinner
This was the 18th year for the dinner at Lawrence's First United Methodist Church, 946 Vt. It took "only" 55 turkeys and 40 hams to feed everyone, said Deb Engstrom, a volunteer who helped with the organization of the event. That's not to mention the stuffing, potatoes and gravy and all the rest of the trimmings.
The free meal is offered every year to everyone, she said. Hundreds of people request meal deliveries, and many more show up to eat at the church.
"I just happen to believe that fellowship is really important for people on holidays," she said. "And fellowship usually happens around a meal."
About 30 minutes into the three-hour meal, volunteers had delivered to just under 600 people. That was most of the meals they had planned to deliver, Engstrom said, but they would continue to answer the phones until the meal wrapped up around 2 p.m.
Sarah Schmille, a 24-year-old Lawrence resident, was one of many volunteers who helped deliver meals throughout the county to those who requested them.
She came with three of her cousins from Raleigh, N.C., and her grandmother — "We call her Nana," Schmille said — from Bangor, Maine. She said she was happy to volunteer her time to give back on Christmas and was prepared to use her GPS navigating system to help deliver meals wherever they needed to go.
"We don't eat until 3, so it's fine," she said.
Volunteers and neighbors Irma Tesar and Dorothy Monaghan watched over the many slices of pie. Those present for the feast had, to put it mildly, a wide variety of pie options. Blueberry, blackberry, peach, pumpkin, apple, key lime, raisin, coconut cream, chocolate cream, sweet potato and gooseberry all were on the menu.
"You forgot cherry," Monaghan said.
It was all tasty for Tammy Bevens and her 8-year-old daughter, Jazmine Dillon, who came for a meal. They both agreed it was good stuff.
"We wanted to come down and be around people," Bevens said. "We went to church this morning and then we came here."
Copyright 2018 The Lawrence Journal-World. All rights reserved. This material may not be published, broadcast, rewritten or redistributed. We strive to uphold our values for every story published.