A Douglas County judge is scheduled to sentence Major C. Edwards Jr. on Tuesday for his role in the 2006 shooting death of Lawrence hip-hop artist Anthony Vital.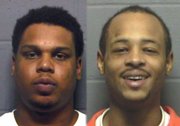 It will presumably bring closure to a five-year legal drama in Douglas County, but some questions still remain about what exactly transpired the night of Oct. 14, 2006.
A landowner found the body of Vital, 28, the next morning in his rural driveway west of Lawrence, starting a lengthy investigation by Douglas County Sheriff's investigators.
A key question during Tuesday's hearing will be whether Edwards, the only person convicted in the case, will be sentenced to serve additional prison time or whether he will be released for the years he's already served.
"Major didn't pull the trigger," defense attorney Branden Bell said. "He shouldn't be punished like he did."
Edwards, 32, of Lawrence, in March 2010 pleaded guilty to voluntary manslaughter in a plea deal that would shave four years from his prison sentence in exchange for his testimony against his co-defendant at the time, Durrell Jones, 24, of Kansas City, Kan. Edwards testified in the March jury trial that Jones shot and killed Vital to collect on a drug debt for PCP.
Officers had arrested Edwards in Mississippi days after Vital was shot, but Jones did not publicly come into the picture until prosecutors filed charges against both men in 2008. During the Jones trial, defense attorney John Kerns often referred to Edwards as "Front-page Mage" for the amount of news coverage the case received, attacked Edwards' credibility and accused him of trying to pin the shooting on Jones.
Jurors were not able to reach a unanimous verdict against Jones, and Douglas County prosecutors in August dropped their case against him because they said Edwards had developed credibility issues.
Still, Edwards' defense attorney has accused prosecutors of throwing Edwards "under the bus" because they couldn't convict Jones. Bell plans to ask Chief District Judge Robert Fairchild not to consider two of Edwards' juvenile convictions as part of his criminal history, meaning Edwards possibly could be released because of the time he's spent in custody while the Vital case was pending. At the time of his plea, attorneys anticipated Edwards would face 18 years in prison based on state sentencing guidelines, but they would agree to subtract four years from that sentence for his cooperation against Jones.
Prosecutors Tuesday are expected to ask for the 14-year sentence considering that earlier this year they requested Fairchild's permission to oppose the four-year reduction in the plea deal because they believed Edwards' testimony against Jones was no longer credible. They cited allegations from a jail mate, Joe Hunter, who alleged Edwards told him Edwards was the one who shot Vital.
"The exact truth of what occurred in connection with the murder of Anthony Vital may never be known at this point, but we have no doubt that Edwards and Jones played an active role in what happened," Branson said in August when he dismissed Jones' case. "We also do not doubt Major Edwards knows what happened but his various and contradictory accounts to others make the use of his testimony too unreliable for us to ethically present to a jury."
The Jones mistrial did spark animosity between Edwards and prosecutors. Edwards sought to withdraw his guilty plea and alleged prosecutors misled him about how much prison time he faced. A judge later ruled against allowing Edwards to withdraw his plea.
Prosecutors then filed a motion asking to oppose the four-year reduction in his sentence and called Hunter as a witness at a hearing in October. Edwards in a handwritten letter to Fairchild denied he spoke to Hunter about the Vital case. Hunter, who is serving a prison sentence for theft and burglary cases, then declined to testify, and Fairchild ruled prosecutors could not back out of the plea agreement.
Fairchild is scheduled to sentence Edwards — also serving time on a federal gun charge from 2006 — at 1:30 p.m. Tuesday.
Jones was released from federal prison Nov. 1 after serving time on federal drug charges, according to the Federal Bureau of Prisons. There is no statute of limitations in Kansas for murder, and Branson has said if prosecutors ever uncover new evidence against Jones in the Vital case, they could refile charges.
Copyright 2018 The Lawrence Journal-World. All rights reserved. This material may not be published, broadcast, rewritten or redistributed. We strive to uphold our values for every story published.