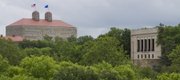 Subscribe to the email edition of Heard on the Hill and we'll deliver you the latest KU news and notes every weekday at noon.
Your daily dose of news, notes and links from around Kansas University.
• Thanks to colleague Alex Garrison, who turned Heard on the Hill tipster and pointed out that a KU professor appears in the latest NPR "Planet Money" podcast.
They were talking about the return on investment you can get from lobbying members of Congress.
Raquel Alexander, a tax professor teaching in KU's school of business, is quoted quite a bit. A transcript isn't available yet, but she comes in at about 3:30 of the podcast.
It's interesting stuff, and Heard on the Hill readers, of course, got a sneak peek on the research back in October.
UPDATE: Business professor Susan Scholz, a co-author on the research, also appears in the podcast, too, around 13:40.
• Here's another article out of Wichita on the issue of cell phone driving bans. I wrote a bit about the NTSB recommendation recently, but this article goes a little more in-depth on the issue.
It quotes a Wichita-area lawmaker saying that a complete ban on cell phones in vehicles in Kansas isn't likely any time soon.
And that doesn't exactly fill KU professor Paul Atchley with Christmas cheer. When I told Atchley that I don't routinely text and drive but do occasionally check my phone when it goes off, he told me to "Put it in the trunk."
He's pretty serious about this stuff, and his research backs him up.
"It's based on solid evidence," he told the Wichita Eagle. "It's based on too many tragedies that have happened already."
• If you're still looking for some holiday decorations, you can use these KU patterns to make creations you can hang as paper garlands (I'm a bit of a humbug, apparently, as I had to look up what, exactly, a paper garland was).
They're rather jaunty.
Hope everyone has a Merry Christmas, Happy Hanukkah or whatever holiday you may be celebrating. I'll be back here right after the holiday with more Heard on the Hill goodness.
• Actually, I'll be holding down the fort here at Journal-World Headquarters here at Seventh and New Hampshire on Christmas Day, so if you'd care to send me some gifts in the form of tips for Heard on the Hill to ahyland@ljworld.com, I sure wouldn't mind.
Copyright 2018 The Lawrence Journal-World. All rights reserved. This material may not be published, broadcast, rewritten or redistributed. We strive to uphold our values for every story published.