In a 3,500-square-foot section of a warehouse on Kansas University's West Campus is what Sam Pepple calls the equivalent of grandma's basement.

Rows of office chairs, tables, filing cabinets and shelves fill the space, as well as more unusual finds, such as a doctor's examination table.
The warehouse is the heart of KU's surplus property recycling program, which collects unwanted office furniture and equipment free of charge from departments across campus. Those items are then stored at the warehouse where other departments or area nonprofits can use them.
"Things get shifted around, sort of like grandma's basement," Pepple said.
This week, the program donated its 10,000th item to nonprofits. The item was part of a truckload headed to Lawrence Habitat for Humanity ReStore that included file cabinets, office chairs, desks and frames.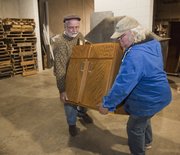 "It's a wonderful thing," said Byron James, who works at ReStore and stops by the warehouse about twice a month. The items he collects are sold at the store, which gives the proceeds to Habitat for Humanity.
Using the warehouse
Any organization that is classified as a nonprofit by the Internal Revenue Service can take advantage of KU's surplus property recycling program.
At the warehouse, 1851 Westbrooke St., store hours are 8 a.m. to 10 a.m. Tuesday, or you can schedule an appointment by calling 393-4256.
Available items can be viewed online at recycle.ku.edu/surplus/items.shtml.
The 10,000 mark is a significant one when the alternative is considered.
"If we weren't here doing this, it would be thrown away. It would be in a landfill," Pepple said.
The program has been around for more than four years and is under the management of KU's environmental stewardship program. Pepple, who is aided by a group of student workers, collects reusable office furniture and equipment from campus departments at no charge.
Other departments on campus have the first option of reusing those items. Just recently high-end Herman Miller office furniture made its way from the provost's office to the Life Span Institute.
"It gives them a little more credibility," program coordinator for the environmental stewardship program Aileen Dingus said of the effect the department's furniture upgrade will have on visitors.
The surplus furniture becomes available as departments at KU remodel, move more people into smaller spaces or purchase new furniture. If the items aren't gone in two weeks, the items are available to local nonprofits.
On a recent chilly day, Pepple had already collected brown sitting chairs from the Kenneth Spencer Research Library. Health Care Access stopped by to pick up office chairs, Cottonwood Inc. procured tables, and the Ballard Center took cubical dividers and a desk for a new office.
And then James drove off with a truck full of "new" merchandise.
"It's great for us," James said.
Copyright 2018 The Lawrence Journal-World. All rights reserved. This material may not be published, broadcast, rewritten or redistributed. We strive to uphold our values for every story published.