When the Stepping Stone Ranch in Baldwin City agreed to foster Coco, a Shetland pony, for the Lawrence Humane Society, the animal's hooves were so long and grotesquely curled that she couldn't walk.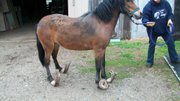 "It was ungodly," said Steve Gannaway, who operates the ranch with his wife, Vera. The couple added Coco to their ranch in April, after the pony was removed from her Eudora home because of severe neglect.
Coco's hooves hadn't been trimmed for more than four years, though it's supposed to be done every six weeks. The curled hooves caused severe problems with the pony's bones.
But just in time to cross "pony" off a Christmas wish list, Coco is fully rehabilitated and ready for adoption.
"She's ready to go," said Kayse Aschenbrenner, director of animal welfare at the Lawrence Humane Society.
Aschenbrenner received the animal neglect call in April, after a concerned resident called in the complaint. Because of the severity of Coco's condition, Aschenbrenner, with police assistance, confiscated Coco, whom they estimate to be about 13 years old.
Coco's previous owner, John Steffen, 44, of Eudora, pleaded no contest in November to one misdemeanor charge of animal cruelty. Steffen was sentenced to one year of unsupervised probation and ordered to pay $4,400 to the state for the cost of caring for Coco. Steffen is also not allowed to own any other horses while he's on probation.
While it's taken months of veterinary care and frequent hoof trimmings, Coco is healthy, running around with about two dozen other horses on Gannaway's ranch.
Standing about 40 inches tall, Coco is easily the smallest at the ranch but holds her own, Gannaway said.
Coco gets along well with the other horses and would make a good companion for another horse out in the pasture, he said.
The pony's feisty personality has grown on the Gannaways, and she's ready for a permanent placement.
"I'd like to see her go to a good family," Gannaway said.
Those interested in adopting Coco can call the Lawrence Humane Society at 785-843-6835. Donations to help pay for Coco's care can be made online at lawrencehumane.org.
Copyright 2018 The Lawrence Journal-World. All rights reserved. This material may not be published, broadcast, rewritten or redistributed. We strive to uphold our values for every story published.