Photo Gallery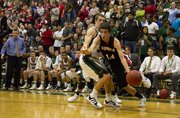 Free State boys basketball vs. Lawrence High
Most backing the home team among the overflow crowd Friday night at Free State High's gymnasium had heard all about the cross-town rival's big names.
Seniors Anthony Buffalomeat, Logan Henrichs and KJ Pritchard have been filling it up since they were sophomores. It didn't take long for word to spread across town about Lawrence High's 6-foot-7 sophomore center Bryce Montes de Oca, blessed with a wide body, soft hands, a soft touch and nimble feet.
But No. 3? Who in the name of John Doe is No. 3? Excuse me, can I borrow your lineup sheet? No. 3 is 5-foot-11 junior guard Jake Mosiman, who had his fingerprints all over Lawrence High's thrilling 75-68 overtime victory in Firebirds territory.
Just what got into this pass-first player under such bright lights? Mars Blackmon would tell you it was the shoes, except that they were made by a Nike competitor. Mosiman, the only player on the floor wearing red shoes, knows better.
"I don't know," Mosiman said. "I'm not the biggest fan of Free State. They beat us twice last year. I just wanted to get the win."
Why doesn't he care for Free State?
"We're rivals," he said. "Like KU and MU. I don't really care for MU, either."
Asked what his career-high was coming into the night, Mosiman tried in vain to help.
"Um, I don't know," he said. "I couldn't tell you. I don't really pay attention to how many points I score."
For the record, Mosiman scored 16 points and made seven of 10 field-goal attempts Friday.
"Wow," he said when informed of his point total. "That has to be the most I've ever scored in a varsity game."
Mosiman hit big bucket after big bucket in a game so tight that the biggest lead a team had at the end of a quarter was the Lions' 51-49 edge after three.
At the start of the overtime, the junior whose expression never changes during the course of a game, made a memorable play at each end. With his back to the basket, Mosiman shoulder-faked as if he would go left, dribbled right, stopped on a dime and buried a baseline fade-away jumper. At the other end, he knocked the ball loose from Brett Frantz (24 points) to steal a possession.
"Coach (Mike Lewis) told me to guard Brett Frantz," Mosiman said of the OT period. "He's a great player. He kept on driving. I slapped down at it, and luckily I didn't get a foul called."
Mosiman has no hot dog to his game, and the red shoes — he identified them as "adidas adiZero Crazy Lights" — don't represent a desire to stand out, rather the latest symbol of that special bond grandfathers and grandsons so often share. Mosiman estimated he has had more than 300 pairs of basketball shoes.
"It's what my grandpa and I usually do," he said. "We go to Kansas City, get shoes, get some ice cream, come back. It's my favorite thing to do. I love hanging out with him."
His favorite pair ever?
"I remember in, had to be third grade, I went on the Internet and customized a pair of Nike Shox," he said. "I put my grandpa's initials on them, G.H. for Gary Hardy. He's my best friend, and he gives me pregame talks."
Grandpa Hardy ought to memorize Friday's. Maybe even package it and sell it.
Copyright 2018 The Lawrence Journal-World. All rights reserved. This material may not be published, broadcast, rewritten or redistributed. We strive to uphold our values for every story published.