Photo Gallery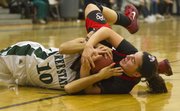 Free State girls basketball vs. Lawrence High
The Free State and Lawrence High girls are almost complete opposites on the basketball court.
The Lions are a young team that tries to control the game through the half-court. The Firebirds are more experienced and like to run the floor and score in transition. Free State's fast-paced attack was the difference in its 64-47 home victory against rival Lawrence High on Friday night.
"We played into their hands, as opposed to doing what we want to do," LHS coach Nick Wood said.
The game plan, Wood said, was to force FSHS to work in a half-court offense and slow the game down. It didn't work until about the third quarter, when the Lions' post players, junior Monica Howard and sophomore Kionna Coleman, began finding success against the smaller Firebirds.
But after trailing almost the entire game by double digits, it was too big of a deficit for LHS to overcome so late.
Despite the 17-point victory against their cross-town rivals, the Firebirds (4-0) were not happy. Free State coach Bryan Duncan said his team won Friday night with talent, not execution. He credited the Lions (2-2) for having success by pressing the ball and forcing turnovers, something FSHS isn't used to seeing.
"They actually did some things to us that I hadn't seen yet — things a lot of teams would say not to do to Free State," Duncan said.
Many of the Firebirds said after the game that, after going into halftime with a 33-16 lead, they became complacent.
"Our attitude wasn't the best, and so they were able to get back into it a couple times," FSHS junior Lynn Robinson said.
The other difference between the two teams — age — might have come into play, given the packed house. The LHS team is full of young players who haven't seen large crowds before, but Wood said the Lions shouldn't use that as an excuse.
But ask veterans from Free State, and the Firebirds welcomed it.
"I love playing with the intensity of the crowd here," FSHS junior Kennedy Kirkpatrick said. "I think for all the younger kids who didn't get to play at the varsity level last year, it was a great experience for them."
As a member of the visiting team, Coleman had a different experience on the court Friday. She transferred as a sophomore from FSHS to LHS this year, and the crowd was well aware, chanting "Traitor" while she was shooting free throws.
Though she said that didn't hurt her, it was no coincidence that she played aggressively and had 13 shot attempts.
"I just wanted to tell them to just chill out a little bit," Coleman said.
Lawrence will take a break for the holidays before playing host to Olathe Northwest at 7 p.m. on Jan. 6.
Free State will travel to Platte County, Mo., at 7 p.m. on Tuesday.
Copyright 2018 The Lawrence Journal-World. All rights reserved. This material may not be published, broadcast, rewritten or redistributed. We strive to uphold our values for every story published.