At least 17 Lawrence Westar Energy customers were without power from 3 p.m. to 5 p.m. Saturday, confirmed Erin La Row, a spokeswoman for the company.
La Row said the outage was caused by a squirrel getting into equipment but that Westar didn't know exactly how or where.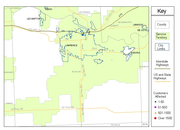 Copyright 2017 The Lawrence Journal-World. All rights reserved. This material may not be published, broadcast, rewritten or redistributed. We strive to uphold our values for every story published.