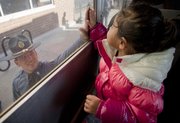 Aerianna Pool couldn't possibly know that by picking out an umbrella doll stroller, a Doll & Diaper Playset and a Dora the Explorer Glitter Sticker Book, she'd actually be giving her steadfast helper the biggest gift of all: a reason to smile.
Aerianna, 3, guided Master Trooper Dennis Shoemaker of the Kansas Highway Patrol — uniform on, semiautomatic pistol at his side and crisp trooper hat in their cart — through the toy aisles at Walmart, as area law enforcement officers helped participants in the Ballard Community Center's early-education programs shop for the holidays.
And while the kids picked up toys, clothes and jewelry they and their families otherwise wouldn't be able to afford, it was the assembled officers, deputies and troopers who would be taking home something less tangible but perhaps even more precious: A welcome distraction from the hazards of their duty.
"How mixed up the world is? They will know that as an adult," said Shoemaker, who patrols Douglas and Franklin counties in what is now his 22nd year in law enforcement and 12th with the patrol. "They don't know that as kids. They smile. They laugh. They have a care-free attitude.
"They put a smile on your face," Shoemaker said. "Can't beat it."
Ballard Community Services organized the event, called Take our Youth Shopping (TOYS), to help the 3- to 5-year-olds in its programs for low-income families. But organizers know the benefits for law-enforcement personnel, too.
Last week, a police officer was killed in the line of duty, and on Thursday a state trooper suffered serious injuries responding to a robbery call. The dangers, risks and sacrifices of duty are real, said Dianne Ensminger, Ballard's CEO.
Allowing personnel from the Kansas Highway Patrol, Lawrence Police Department, Douglas County Sheriff's Office and Kansas University police to relax, help out and interact with kids in a positive environment couldn't have come at a better time, she said.
"My hope is that it reminds them of why they became officers in the first place," Ensminger said.
The morning began with complimentary breakfasts at McDonald's and finished after the kids had exhausted the $50 gift cards donated by Hallmark Cards' Lawrence production center.
As they climbed back onto their school buses, many of the kids themselves sported shiny stickers and plastic badges designating them as junior deputies, junior police officers or junior troopers. They would leave with a new, positive experience with law enforcement, something new to kids whose older brothers, parents and other families members may be in jail.
Shoemaker, walking back to his car, certainly appreciated the welcome break from the events of the past few days and the chance to make a difference,
"It's awesome," Shoemaker said. "I would do this every day if I could."
Copyright 2018 The Lawrence Journal-World. All rights reserved. This material may not be published, broadcast, rewritten or redistributed. We strive to uphold our values for every story published.