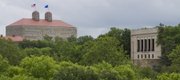 Subscribe to the email edition of Heard on the Hill and we'll deliver you the latest KU news and notes every weekday at noon.
Your daily dose of news, notes and links from around Kansas University.
• Trying to follow the budget wrangling in Washington is often a difficult chore these days, as stuff seems to shift around moment by moment.
But I did happen to spot this article from the Chronicle of Higher Education that broke down the latest proposal from Republicans in Congress.
This one was interesting to me because it actually increased the budget for the National Institutes of Health by $300 million, or 1 percent.
From my lofty perch here at Heard on the Hill World Headquarters at Seventh and New Hampshire, I've been trying to keep an eye out for what's going on related to NIH funding as KU pursues National Cancer Institute designation. I know KU people are watching pretty closely, too.
The bill would also keep the Pell Grant maximum award level at $5,550. Lowering that figure is a frequent target for cost-cutters, but the Chronicle did report that the bill would limit students to six years of Pell grants instead of the current nine.
And, the article said, it's not immediately clear if students who have already had six or more years of assistance would remain eligible.
So we'll see what comes of it.
• Thanks to a sweet tipster who pointed out a Christmas lights display on the east side of Marvin Hall on Thursday morning that didn't look to be university-sanctioned to me.
The tipster provided a photo that was a little hard to make out (or I'd republish it here), but seemed to show a string of lights made out to be a couple of eyes and big, smiling mouth.
"I'm assuming it's there to greet students walking to finals in the dark," my tipster said.
Did anyone else see the lights? Or know how they got there?
• And, finally, I saw a tweet from the KU Libraries that referenced this graphic that talks about "the truth" about Facebook and grades.
It summarizes a study that shows that "the idea that Facebook affects students negatively has not been borne out by science."
For starters, a little background: 92 percent of students use Facebook, and the average student spends 106 minutes per day on the social networking site.
Grades do go down the more time students spend on Facebook, but that effect is minimal "unless you use it all the time."
More at the link above.
• Though I haven't had any studies done, I'd bet Heard on the Hill has a positive impact on grades. Unless you use it all the time, that is. The best way to show that you're really smart is to send me a tip at ahyland@ljworld.com.
Copyright 2017 The Lawrence Journal-World. All rights reserved. This material may not be published, broadcast, rewritten or redistributed. We strive to uphold our values for every story published.