More than 20 researchers from Kansas University have contributed to work in the Large Hadron Collider at the CERN laboratory in Switzerland, where researchers announced on Tuesday significant progress toward finding the Higgs boson, or "the God particle."
On the street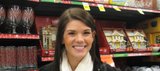 No, but that's neat. I will have to research it.
Alice Bean, a professor of physics and astronomy, said four faculty members, three postdoctoral researchers, six graduate students and seven undergraduates have contributed work for the program. The Higgs boson is the last piece of the standard model that has gone unexplained.
The standard model, she said, seeks to explain the physical world through four forces — gravity, electromagnetism, "strong" forces (like the forces that hold parts of atoms and ions together) and "weak" forces, like radioactivity. The model as it exists today cannot account for all four forces.
KU's involvement is funded in part through a grant from the National Science Foundation, which also provides funding for researchers from other public institutions to participate.
KU researchers have helped to work on a detector to monitor the data that comes from smashing tiny atoms together at high speeds. Bean said the device functioned like a 75-megapixel camera that's capable of capturing images one billion times per second. A typical digital camera, she said, might be a five megapixel camera that captures images 20 times per second.
Scientists haven't yet found the elusive particle, but they've narrowed the places where they expect to find it, Bean said, adding if they don't find it, that would be interesting, too.
Though the work may seem esoteric at times, it has multiple benefits, she said.
"Our main interest as scientists is to understand how the world works," she said.
And that interest could also spark a whole host of other discoveries. The World Wide Web came about at the CERN laboratory because physicists needed to communicate with each other, she said.
And discoveries related to electricity have led to all kinds of other technology, including the gadgets so many people enjoy today, Bean said.
Will Burg, a sophomore from Lawrence, is involved with the work at KU. When he attended Lawrence High School, a physics teacher encouraged him to get involved in research.
He'll be going to Switzerland next summer, where he hopes to interact with some of the world's top researchers.
Burg is an engineering physics major, and said he hasn't quite yet determined which of the two fields he wants to pursue.
Though Burg said his individual contribution to the overall effort is small, he was looking forward to the experience. He's also pleased to see the media interest this week in the work on the Higgs boson.
"I think it's something that everybody should have some general knowledge of," Burg said. "It's basically just understanding how the world works."
Copyright 2018 The Lawrence Journal-World. All rights reserved. This material may not be published, broadcast, rewritten or redistributed. We strive to uphold our values for every story published.