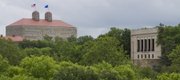 Subscribe to the email edition of Heard on the Hill and we'll deliver you the latest KU news and notes every weekday at noon.
Related document

Charlie Weis contract ( .PDF )
Related document

Turner Gill coaching contract ( .PDF )
Related document

Turner Gill's First Retention Agreement with Kansas University ( .PDF )
Your daily dose of news, notes and links from around Kansas University.
• I always find it interesting to try to go line-by-line through some of KU's new athletics contracts and see what's different from the ones that came before.
Here are just a few things of interest that I picked out when comparing Charlie Weis' contract to Turner Gill's, aside from the basics like salary, incentives, etc.
I'm not a lawyer, though I know at least a few read this column. I'm including both Gill's contract, and so if you (lawyer or not) see something that strikes you as interesting, feel free to let me know.
The fine folks over at KUSports.com did a good job running down many of the major changes.
One thing I noticed that the "termination for cause" section seems like it got a lot broader. Look at Gill's contract. "Cause" is narrowly defined as five specific things, like the refusal of the coach to perform his duties, serious criminal conduct, significant or repetitive violations by the head coach of NCAA rules, etc.
In Weis' contract, it stipulates "'cause shall include misconduct, which is not limited to" seven specific things.
Here are some of the new things that can specifically determine "cause," too. Namely, the failure of the head coach to promptly report to the athletic director any violations known to the coach of NCAA, Big 12 or KU rules and policies, fraud or dishonesty dealing with tests or records for the NCAA, Big 12 or KU and public or private comments that disparage KU or Athletics.
Interesting, though, that the language was broadened to include the much more general "misconduct."
Also gone this time around is that retention bonus that Gill received of $100,000 per year in deferred compensation.
One last thing I thought was interesting that was included this go-around was a whole new section of the contract for Weis detailing "NCAA and/or Big 12 Violations." In the section, it basically seems to say that Weis is explicitly responsible for promptly reporting NCAA or Big 12 violations to the athletic director. While there's a sentence in Gill's contract that basically says that, it's much more fleshed out in Weis' contract.
Many things are obviously identical in the two contracts, down to the precise number of men's and women's basketball tickets the coaches received (six) and where they're located ("on the lower level of Allen Fieldhouse between the free-throw lines, said seats to be assigned by athletics.").
As I said, let me know if you see anything else that's interesting.
• As we first reported yesterday, former Senator Bob Dole, former FDIC chairwoman Sheila Bair, current Ford Motor Co. CEO Alan Mulally and choral composer Kirke L. Mechem are the first recipients of KU's new honorary degrees.
One question I had about this process is still apparently hanging out there. Namely, will one or all of these folks speak at commencement? And if so, will they replace the long-standing traditional speech from the chancellor?
When we first reported on this process, a KU spokesman told me that as far as he knew, the process hadn't yet been determined. When I hear more, I'll be sure to let you know.
• And I'll leave with a short video featuring some of the birdhouses now on the auction block at Hilltop Child Development Center. The houses are decorated by the children and made by teacher Mike Pisani (though the children often contribute to the making of the houses as well). Pisani decorated a house himself to look like Danforth Chapel.
Proceeds benefit Hilltop families who can't afford their own Christmas this year.
Last year, the fundraiser raised about $800 and had already raised more than $500 through Tuesday's bidding.
Today is the last day to bid on them in the silent-auction format. The auction ends at 5:45 p.m., and you can either bid on them in person at 1605 Irving Hill Road or call the center's number at 864-4940 to place a bid.
• I'll give you an honorary degree from Heard on the Hill University if you send me a tip to ahyland@ljworld.com.
Copyright 2018 The Lawrence Journal-World. All rights reserved. This material may not be published, broadcast, rewritten or redistributed. We strive to uphold our values for every story published.