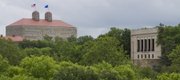 Subscribe to the email edition of Heard on the Hill and we'll deliver you the latest KU news and notes every weekday at noon.
Your daily dose of news, notes and links from around Kansas University.
• Gov. Sam Brownback visited the Journal-World on Tuesday, and had a few things to say about higher education.
On the topic of higher education, at least, he mostly rehashed some of the same things he's said before.
He's in favor of targeted investments of state dollars geared toward areas of strength and economic need.
He wants KU Medical Center to improve its overall ranking among medical schools. He's looking to ensure that KU retains its status as a member of the prestigious Association of American Universities.
Brownback praised the ongoing effort to achieve National Cancer Institute designation, and said he hoped to continue to support it in the future.
He was particularly pleased with KU's efforts in drug discovery and development, which he said was among the best in the business.
And I wouldn't be surprised to see the state push even more targeted investments in areas like engineering, where Brownback said Kansas still needs more graduates to fill the state's workforce needs.
• I'm writing this column sitting in the lobby of the Kansas Bioscience Authority's building in Olathe as I wait for that group's investment committee to come out of closed session.
One of the newspapers sitting out here is the Wichita Business Journal, which has an interesting article on the possibility of Wichita State creating Kansas' first dental school.
Though you'll need a subscription to read the article here, I can just read the paper right in front of me. Emporia, Hays and Lawrence have also expressed interest in hosting a dental school, the newspaper reported (though I haven't heard of any serious interest from KU on this issue recently).
The Kansas Board of Regents, the newspaper reports, has a 10-member panel looking into dental health education.
Eighty-four Kansas counties — including Sedgwick and Shawnee — have a shortage of dentists, though the University of Missouri-Kansas City's dental school provides 85 spots for dental students from Kansas — a move that could change if a new dental school picks up. It'll be interesting to watch this one in the future.
• Hat tip to former LJWorld online guru Jonathan Kealing, who pointed out on his Twitter feed that "gpa calculator" was the eighth-most popular search on Google on Tuesday afternoon, right behind Derek Jeter, and right in front of GI Joe Retaliation.
That's just one more sign that we're nearly done with another year.
I always figured my GPA using mathematics (and usually wound up slightly depressed at the end of the semester). If you're not so into that mathematics stuff, let me save you the Google search.
• Submitting tips for Heard on the Hill is a lot more fun than going to the dentist. All you have to do is send me an email at ahyland@ljworld.com.
Copyright 2018 The Lawrence Journal-World. All rights reserved. This material may not be published, broadcast, rewritten or redistributed. We strive to uphold our values for every story published.