Photo Gallery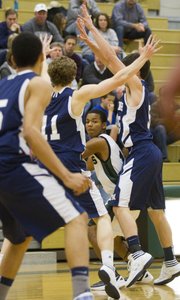 Free State boys vs. Blue Valley North
With one of the top teams in the state coming to Free State High on Tuesday night, it would have taken four quarters of excellence for the Firebirds' boys basketball team to knock off Blue Valley North.
Though FSHS played well at times, it was nowhere near enough to counter the balance and precision of the Mustangs in a 75-49 loss.
Four BVN players — Conner Crooker, Erik Higginbotham, Jawan Emery and Matthew McHugh — scored in double figures. Free State coach Chuck Law said every player Blue Valley North put on the floor had athleticism and the ability to handle, pass or shoot at any time. On top of that, Law went on, the Mustangs ran their sets "exceptionally well," played hard and hustled for loose balls.
As far as the coach was concerned, not many teams are better than BVN (4-0).
"They've got a ton of weapons. I'm adamant about the fact that I think they're the second-best team in the state," the coach said, giving the No. 1 spot to Wichita Heights.
It didn't help Free State (2-2), either, that the Firebirds began the game in a 23-7 hole.
"We don't have enough firepower to dig ourselves a hole like that," Law said, noting that slow starts have been a recurring issue.
Fortunately for the Firebirds, they put together a much better second quarter. Oddly enough, it began when sophomore substitute guard Joe Dineen banked in a three-pointer, sparking a 15-4 run.
Dineen scored again with a steal and lay-in, senior Tyler Self made a reverse layup, senior Cameron Dabney scored in the paint, senior Brett Frantz found senior Gabe Patterson for a bucket inside, junior Kyle McFarland gathered an offensive rebound after getting blocked and went up for a score, and Dabney drained a baseline jumper in the final seconds of the quarter. By the half, FSHS trailed 32-26.
Law was very pleased with that stretch, which carried over into the opening minutes of the third quarter.
"I thought we played beautifully for 10 minutes," Law said. "I honestly believe that was the best basketball we've played in the first four games of the year."
Free State kept it close early in the second half with four points in the paint from Patterson (10 points on the night) and a pair of free throws from Dabney (11), but in the final six minutes of the third, the Mustangs outscored FSHS, 25-6, dashing any thoughts of an upset.
"They're so explosive," Law said of BVN. "You can't allow that to happen, and then you've got to organize and get good shots."
Disappointed with the drubbing being issued to Free State's starters in the third, Law turned to his bench late in the quarter, and stuck with the subs for the remainder of the game.
For most of the fourth quarter, backups Blake Winslow, Logan Bannister, McFarland, Wilson Hack and Reshawn Caro took on the No. 5-ranked team in 6A.
Although Free State was down 20-plus points throughout the final quarter, Law liked what he saw out of the bench players, and decided to keep them in, even though they were winded.
"I was real pleased with how our second lineup competed," Law said. "We've got to get the rest of the roster to compete that way."
Winslow scored eight of his 10 points in the final stanza, and said the subs played with a purpose.
"We just wanted to come off the bench and prove a point, and at least bring us back a little and try to give the starters a little energy, because in the first half that's exactly what we did," Winslow said, referring to a span of the first and second quarters when backups Bannister and Dineen accounted for nine straight FSHS points.
Winslow, a sophomore guard, said Free State has the pieces to become a much better team.
"We've just got to believe in ourselves," he said. "I think we came out and didn't really believe."
At 7 p.m. Friday, Free State plays host to Lawrence (3-1).
Copyright 2018 The Lawrence Journal-World. All rights reserved. This material may not be published, broadcast, rewritten or redistributed. We strive to uphold our values for every story published.