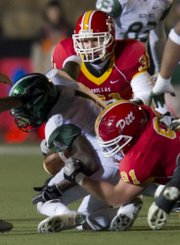 The ability to adapt is a critical aspect of every successful football player's repertoire. For Jared Vinoverski, that quality has come in quite handy.
When the Lawrence High football product first arrived at Pittsburg State University after transferring from Drake, the program with which he originally signed, Vinoverski was on the bottom of the totem pole at wide receiver.
His freshman season in 2010 included some bright flashes of promise. As a reserve, he caught six passes and a touchdown in four games before suffering a season-ending injury at a practice, when he broke a wrist.
Then, when spring drills came around, the wideout learned Gorillas coach Tim Beck and his staff wanted to move Vinoverski to safety in order to provide the secondary with some quality depth.
The former Lion didn't mind the move to the defensive side of the ball, but he had only played corner at LHS, so safety was "a lot different" for him when he first tried it out this past spring. Still, he picked up the nuances he needed to and became a backup free safety on the Pitt State depth chart as a sophomore.
"I think I came a long way, and I'm getting a lot more used to it now," Vinoverski said. "I like it."
He didn't mind his role as a backup, either, as PSU (12-1) won its first eight games of the season and earned a No. 2 seed in its region of the NCAA Division II playoffs. Vinoverski got on the field now and then, often on special teams duty, but primarily was a spectator as Pitt State made its run through the regular season and began its chase for the program's second national championship (Pitt State won the 1991 title).
His role remained the same in the Gorillas' first two postseason victories, over Washburn and Northwest Missouri State. As Pitt State played host to Delta State Saturday in a national semifinal, though, Vinoverski was thrown into the action when starting safety Jason Peete tore some cartilage in his ribs.
The 6-foot-2, 204-pound sophomore stepped in for his fallen teammate in the second half and played the remainder of the game as the Gorillas won, 49-23, and secured the program's fifth championship-game appearance.
Vinoverski said he was thoroughly prepared for his increased role, because the Gorillas had dissected Delta State film in the days leading up to the big game, and his coaches gave him some quick reminders before he took the field: "Keep everything in front of you. Don't let any of the big plays happen."
Considering PSU's 35-13 halftime lead, the substitute safety was able to play a little more relaxed, too. Vinoverski said he wasn't nearly as nervous when he got into the game as he was when he played safety for the first time in his career, earlier in the season.
"My teammates did a really good job," he said, "and it was a lot easier on me getting thrown into the fire."
The former All-Sunflower League player from Lawrence now has five games of playing safety on his college resume and has made six solo tackles and assisted on three others. That experience, especially playing most of a half this past week, figures to do the sophomore well as Pitt State takes on Wayne State (12-3) for the national championship Saturday morning (10 a.m. local time, televised on ESPN2) in Florence, Ala.
Though Peete is planning on giving it a go for the title game, Vinoverski said he is preparing with the same mentality as usual.
"Obviously, I've got to be ready no matter what," he said. "I'm on special teams, too, so I'll be in the game, but I've got to be ready at any time (to play safety)."
After a walk-through on Monday and practice Tuesday, the Gorillas are scheduled to fly down to Alabama for the title game today. Vinoverski said their routine will be pleasantly different this week, as the players will be visiting some elementary schools to read to children and attending some banquets before the big game.
There's been much talk among the Gorillas, Vinoverski said, of what they've accomplished.
"It's so surreal right now," he said. "We can believe we're in the championship, but at the same time we're like, 'Wow. Where'd the season go?' We can't believe we're going to Alabama and stuff like that."
Through Pitt State's playoff run, Vinoverski said the team has tried to stick with the same routine, and the players and coaches don't want the things that accompany a championship game to distract them from the primary goal.
"We're only there for one thing," he said, "and that's to win a national championship."
Copyright 2018 The Lawrence Journal-World. All rights reserved. This material may not be published, broadcast, rewritten or redistributed. We strive to uphold our values for every story published.