Sixth-graders will continue to be assessed using the same standards-based grading system that's been in place for nearly a decade in the Lawrence school district, Lawrence school board members reaffirmed Monday night.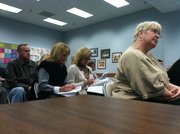 But a process designed to make the system work better — for parents, for teachers and, ultimately, for students — will continue into the next school year, as district administrators continue to address concerns raised by parents and teachers frustrated by the use of such grades in middle schools.
The system may succeed in meeting the board's standards, but it's still making progress after being targeted for growth back in August.
"I just want to thank all the parents who have pushed us to look at this issue very closely," said Shannon Kimball, a board member who has heard from dozens of critics at previous board meetings and through letters, emails, petitions, phone calls, informational forums and, ultimately, Monday night's board meeting. "I know you've spent a lot of time and a lot of effort, and it is appreciated. I think you've pushed us in a positive direction."
The grading system — one based on state standards, awarding students an S for successfully meeting standards, an M for making progress, a T for being targeted for growth or an E for consistently excelling — has faced questions since August, when parents of sixth-graders learned that the system would be used for their kids now enrolled in middle schools.
Such grades have been used since 2003 for kindergarten through sixth grades. As in years past, sixth-graders continue to also receive typical A, B, C, D or F letter grades for each subject.
This year, some parents argued that their kids should receive only traditional letter grades like everyone else, as a way to spur motivation and avoid confusion. Many teachers weren't prepared to use standards-based grading in middle schools, some parents said, and families no longer were able to follow their students' progress using the district's computer system used by teachers for grading.
During the past four months, administrators have moved to provide parental access to the computer system. They've trimmed the number of standards teachers need to mark. They've added time for teachers to record and turn in grades.
Now the district plans to convene committees, workshops, courses, focus groups and other efforts to help guide improvements. Some changes will go to school site councils for review, offering parents opportunities to provide input.
Critics who showed up for Monday's meeting expecting a robust discussion left instead after a few brief comments.
"I leave it in your hands," said Jill Patton, parent of a sixth-grader and who has attended previous board meetings, met one-on-one with Superintendent Rick Doll and remains critical of the process. "I elected you to represent me. I played by the rules. I did everything I can do. (But) you just can't wait until 2012 to readdress this, or look at it. And you can't just sit and watch a PowerPoint from the administration to see what's happening."
Patton hopes that her daughter won't have to endure standards-based grades again next year, when she moves up into seventh grade. She and others fear that the system could make its way up through eighth grade and into high school.
Mark Bradford, board president, stifled such worries after the meeting. "I don't think we're ready to do that," he said.
Copyright 2018 The Lawrence Journal-World. All rights reserved. This material may not be published, broadcast, rewritten or redistributed. We strive to uphold our values for every story published.