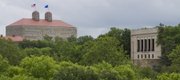 Subscribe to the email edition of Heard on the Hill and we'll deliver you the latest KU news and notes every weekday at noon.
Your daily dose of news, notes and links from around Kansas University.
• I was talking to KU Provost Jeff Vitter last week on a number of issues — most of which you'll see in a few articles down the road. But one topic we discussed I felt might fit best in this space.
And that's the topic of raises for KU's deans. I wrote last week about how four of KU's deans — along with 416 other KU employees — were the beneficiary of some salary increases that came along before the merit-based pay increases scheduled for January that I wrote about in today's newspaper kicked in.
In my story last week, I chatted with Tim Caboni, KU's vice chancellor for public affairs, who told me that the raises were for a variety of reasons, from promotions, to the addition of new duties to payments to retain good people who may be leaving.
He could not, however, tell me specifically why the deans got raises.
Vitter, the deans' boss, could tell me exactly why they did, so I asked him.
The adjustments — ranging from 12 percent for social welfare Dean Mary Ellen Kondrat to 3 percent for libraries Dean Lorraine Haricombe — were basically adjustments for salaries that were out of kilter with the job market, Vitter said.
He said it's easier to have deans who are satisfied and content to stay here, especially during a time in which deans are being asked to take on more and more work.
"There are just so many things going on that we are asking deans to play a major role in," Vitter said, including making changes aligning with KU's strategic plan and fundraising for Far Above: The Campaign for Kansas, a comprehensive campaign in which deans are expected to play an active part.
• Here's one last tidbit on deans' salaries before I leave the topic completely. One of the deans who got an increase explained something to me last week that I'd never fully seen laid out exactly this way before.
By and large, deans are tenured faculty members in addition to serving as dean. The way this is apparently handled from a salary perspective is that those serving as dean have a base portion of their salary and an administrative portion.
If they are ever fired as dean or retire as dean and return to the faculty, they will revert to their base salary, and lose the administrative portion.
This was the case with Bill Fuerst, who recently retired as business dean, but is still on the business faculty, but at a smaller salary.
The raise this particular dean got was all in the administrative part of the salary, and I'd bet it was the same for all the deans this time around.
And as for leaving KU? Though the phone rings quite frequently with potential suitors, this dean has no plans on leaving KU anytime soon.
• I spotted this rather interesting-looking video blog, Fly the Coop, in one of the many updates from KU I read each week.
(As an aside, I'll bet you have no idea how many "updates" KU can provide, from all corners of its varied existence. I read all of the ones I get, from the provost's eNews to the English department's occasionally whimsical Departmental News Bulletin.)
Fly the Coop is a video travel blog from Maricarolyn "MC" Swab, a 1986 KU journalism graduate.
Once her kids grew up and left, the Tulsa, Okla., resident is now traveling around the country exploring people and their strange passions. She's looked, so far, at square dancing, roller derby and something called a "Rattlesnake Roundup."
• My strange passion is Heard on the Hill. It can be yours, too, if you'll just send me a tip at ahyland@ljworld.com.
Copyright 2018 The Lawrence Journal-World. All rights reserved. This material may not be published, broadcast, rewritten or redistributed. We strive to uphold our values for every story published.