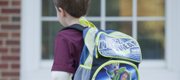 Subscribe to the email edition of First Bell and we'll deliver you the latest local education news and notes every weekday at noon.
Lawrence school board meetings aren't exactly the most exciting events on earth.
No news there.
But some high-achieving students did manage to liven the place up a bit Monday evening, as they stood up, heard their names called and achievements recounted before lining up to accept hearty handshakes and "good jobs" from the elected officials and Rick Doll, superintendent of the Lawrence school district.
Here's a list of the students who were scheduled to be recognized for their collective tremendousness, most of whom attended Monday evening's meeting at district headquarters, 110 McDonald Drive:
• Engineering students from Lawrence High School, as participants on four teams that placed in the top five during the Kansas University School of Engineering's High School Design Competition: Connor Murphy, Chance Barritt, Adam Ramos and Constantine Ochs; Joe Odrowski, Jacob Pfeiffer, Brady Murrish and Josh Song; Kayla Hicks, Alesia Herd, Isaac Rinke and Kailey Wingert; and Adrian Rivera, Randy Walter, Keenan Wycoff and Zach Wustefeld.
• Students in the FFA chapter at Free State High School, who are moving on in state competitions: Kayla Gore and Wyatt Schumann.
• Members of the state champion gymnastics team at Free State High School: Grace Bartle, Haley Johnson, Hannah Moran, Annie Soderberg and Jackie Zaitz.
Board members also thanked the teachers and coaches who have helped lead them to success: Charlie Louts for the engineers, Laura Priest for the agricultural leaders, and Danielle Hayes and Jenn Pogge for the gymnasts.
I'd list all the board members, too, but they already get plenty of pub.
•••
So, it looks like the more than 1,500 students at Free State High School will get to spend another couple minutes in class each day for the third and fourth quarters, thanks to a day of canceled classes because of a bomb threat.
The bomb threat, discovered early Dec. 1, led to a total evacuation of the school just before the bell rang for the school's earliest classes. That meant the school day never officially began.
Students need to be in school for 1,116 hours of instruction in order to complete a year, whether that's going from being a freshman to a sophomore or from a senior to a graduate.
But because the district had built only about two hours of cushion into the calendar for high schoolers, the canceling of school back on Dec. 1 left the Firebirds short on time: 4.81 hours, or 289 minutes.
Doll, the district's superintendent, said that the most likely solution would be to add a couple minutes onto the end of each school day at Free State, starting Jan. 5 with the resumption of classes following winter break.
While such a schedule change isn't the best for instruction, he said, it does make sense given the circumstances. The bomb threat affected only one school, after all, not the entire district.
"We certainly could bring the Free State High School students back another day, and we talked some about that," Doll told board members Monday night. "But we believe, in this circumstance, that it probably makes sense to do (this)."
Copyright 2018 The Lawrence Journal-World. All rights reserved. This material may not be published, broadcast, rewritten or redistributed. We strive to uphold our values for every story published.