Photo Gallery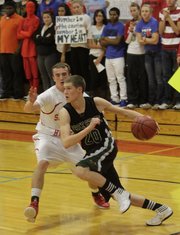 Free State boys vs. Shawnee Heights
Tecumseh — Although the Free State boys picked up a 56-47 road win Friday, coach Chuck Law wasn't about to give the nine-point victory a glowing review, especially given the game's start and finish.
The Firebirds (2-0), the coach admitted, played great defense in the second and third quarters, helping them take a 12-point edge into the fourth, but he wasn't pleased with his team's play in the remainder of the game.
FSHS missed seven straight shots in one stretch of the first quarter and went on to miss 10 of its 12 field-goal attempts to open the game.
"We were so bad in the first quarter," Law said. "I don't know if we could've been worse — so disorganized, didn't know who we were guarding. That was disappointing."
Shawnee Heights (1-2) couldn't maintain its early lead for long, though. The Firebirds chipped away at a six-point hole entering the second quarter with baskets from senior Gabe Patterson and junior Kyle McFarland before senior Tyler Self drilled a three from the left corner to put Free State ahead, 19-18.
The Thunderbirds regained a one-point advantage before FSHS senior Cameron Dabney later buried a jumper to put FSHS ahead for good.
Dabney came off the bench and scored 14 points to go with four rebounds, but Law was more impressed with the guard's defense.
Beginning at 5:30 Saturday evening, both Free State teams will play host to Lansing.
Copyright 2017 The Lawrence Journal-World. All rights reserved. This material may not be published, broadcast, rewritten or redistributed. We strive to uphold our values for every story published.