Photo Gallery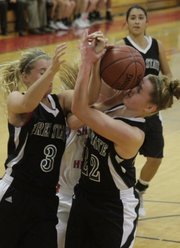 Free State girls vs. Shawnee Heights
Tecumseh — At times Friday night, Free State High girls basketball coach Bryan Duncan could barely believe what he was seeing.
Despite playing in just the second game of the season, the Firebirds were exceptionally sound and methodically pounded Shawnee Heights, 75-38.
That was just the first part of a FSHS sweep in the Thunderbirds' gymnasium — Free State's boys prevailed, 56-47 — as the girls hit 31 of their 59 shot attempts, including seven from three-point range.
SHHS (1-2) trailed by 15 at the half. That was before the Firebirds (2-0) put on a clinic, opening the third quarter with a 9-0 run in just 1:40, with junior Chelsea Casady scoring two transition layups and junior Kennedy Kirkpatrick draining a three and scoring another fast-break basket.
Duncan was amazed with the execution.
"I'm almost speechless, to be honest, for this early in the year," the coach said, adding that at times he looked over to his assistant coaches and just said, "Wow."
By the end of the third quarter, FSHS had extended its lead to 30, with the help of 12 points from Casady, who said it felt good to win in such convincing fashion with the whole team working in unison.
"The third quarter was fun," she said, "just because our mentality going into the second half is: We have to win the third quarter."
Casady, who finished with 18 points, and Kirkpatrick, 19, led the Free State attack, but Jackie Garcia, Lynn Robinson, Scout Wiebe, A'Liyah Rogers, Abbey Casady, Summer Frantz, Courtney Parker and Milly Shade (who scored nine fourth-quarter points) all made at least one basket.
Copyright 2018 The Lawrence Journal-World. All rights reserved. This material may not be published, broadcast, rewritten or redistributed. We strive to uphold our values for every story published.