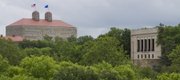 Subscribe to the email edition of Heard on the Hill and we'll deliver you the latest KU news and notes every weekday at noon.
Your stop day edition of news, notes and links from around Kansas University. Where did that semester go?
• The big news everyone was waiting for finally hit yesterday, as Charlie Weis was named as the next KU football coach.
I enjoyed watching how quickly people can react to an announcement like this, given how fast news gets around these days.
My colleague extraordinaire Matt Tait had the news up on his blog at 4:09 p.m.
By 4:19 p.m., Charlie Weis' Wikipedia page mentioned that he was the head coach at KU.
And right around that same time, a new fake Twitter account, at twitter.com/FakeCharlesWeis, was beginning to send out messages. (The name FakeCharlieWeis was already taken, by someone down in Florida).
"Fun Fact: Under terms of my contract, KU has promised to get rid of all the grass on campus and make it sidewalk so my rascal moves faster," read an initial missive from Fake Charles.
This interest is quite real — my phone made a noise early Thursday afternoon while I was interviewing someone on campus, and my subject admitted he was hopeful that it was someone telling me who the football coach was, and he'd be first to know. The phone wasn't telling me that, however, much to my source's disappointment.
I mentioned this intense interest in the football coach to a blogger from Azerbaijan I profiled a week or so ago. She was interested in getting folks engaged about human rights abuses in her country, where people were being harassed because of their Internet posts, elections weren't free and journalists were being jailed (Really! Journalists! I was shocked, too.).
I sheepishly told her we seemed to be primarily fixated on our football coach. She, however, didn't think that was bad at all.
"Value what you have," she told me. "Perhaps talking about the coach of a football team is the freedom we don't have."
So there you go. We get to worry about this kind of stuff because the big stuff is mostly well in hand. Or something like that, anyway.
• Jana's Campaign, a group dedicated to fighting domestic violence created after KU student Jana Mackey was killed in 2008 in Lawrence by her former boyfriend, released a new video, "Jana's Story."
The video tells Jana's story, uses statements from Mackey's family and friends, some old home video footage and some information on the campaign.
According to its website, the campaign has raised just under $20,000 so far toward its $100,000 goal.
• This is probably not something I should tell you (lest someone should try to steal it), but I have a magic media parking pass that pretty much lets me park wherever I want on campus — it even gets me past the little parking huts onto Jayhawk Boulevard.
But for the rest of you parking mortals, here's some information on the lots
Today, on Stop Day, yellow zones (primarily occupied by students) and residence hall parking lots will be open and free for parking.
During finals week next week, all lots will be ticketed as usual.
During winter break, yellow and residence hall parking will be open, and red, blue and gold zones will be ticketed until Dec. 23, open from Dec. 26-30, and ticketed again on January 3.
• The parking lot for good Heard on the Hill tips is never ticketed, so keep sending them in to ahyland@ljworld.com.
Copyright 2018 The Lawrence Journal-World. All rights reserved. This material may not be published, broadcast, rewritten or redistributed. We strive to uphold our values for every story published.