The Ottawa Police Department has arrested two suspects in the aggravated robbery of Dollar General, 2212 S. Princeton St., on Tuesday night..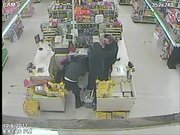 Detectives received information that led to the arrest of Kyle White, 18, Ottawa, and Christian Ream, 20, Ottawa, for the crime. Both were being held late Wednesday evening in the Franklin County Adult Detention Center pending a court appearance for formal charges.
The two men are alleged to have entered the store at 8:41 p.m. Tuesday brandishing cutting instruments and demanding the contents of the cash register. They fled on foot with an undisclosed amount of money, Ottawa Police Lt. Adam Weingartner said in a news release.
Two female employees, ages 46 and 35, received minor injuries during the robbery, according to the police report.
Alicia Wadkins, Dollar General manager, said Wednesday afternoon that both employees were doing fine.
Copyright 2018 The Lawrence Journal-World. All rights reserved. This material may not be published, broadcast, rewritten or redistributed. We strive to uphold our values for every story published.