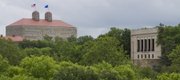 Subscribe to the email edition of Heard on the Hill and we'll deliver you the latest KU news and notes every weekday at noon.
Your daily dose of news, notes and links from around Kansas University.
• So, as I wrote about at length in another part of this fine website, KU actually has seen some raises after all. In all, 420 employees are making more money than they did the previous year.
The only reason we all know about this now all is because I used a state salary database from the Topeka Capital-Journal to compare the old salaries of KU's deans with the newly published ones, and noticed a few differences.
There's actually one other difference there, too, that I think merits some explanation.
You may recall (but I won't blame you if you don't) that when Provost Jeff Vitter was hired in March 2010, we reported his salary at $350,000 per year.
I ran his name through the database, too, and when it returned $385,800, I was, needless to say, quite curious.
As it turns out he didn't get a raise, but the explanation is still interesting.
First, Vitter gets a $3,800 base salary supplement because he provides his own KU computer and cellphone. So he essentially takes home $353,800 in base pay each year.
Added to that is a $25,000 "temporary housing supplement" that he receives for his first three years he's here, and then it goes away. The remainder of that value, a KU spokesman told me, is reflective of other job perks, including the use of a car.
And just as a reminder: Chancellor Bernadette Gray-Little got a 1.8 percent salary hike earlier this year from the Kansas Board of Regents, to $432,650.
• Registration is now open for an event where Kansas University students take time out of their day to perform odd jobs of all kinds for community members and organizations as a way of saying "thank you."
The Big Event is scheduled for March 31, 2012. KU students, faculty and staff will volunteer in two shifts, from 9 a.m. to noon and from 1 p.m. to 4 p.m. Sign-up for volunteers and residents interested in requesting a job is available at thebigeventku.com.
Event organizers hope to have more than 2,000 volunteers working at 400 sites this year. KU students participated in a similar event last March, which I covered at the time.
• Believe it or not, there's actually (at least) one more KU person who's been nominated for a Pushcart Award.
Stephen Bunch, director for program development at KU Continuing Education, was nominated for his poem "Dying." It was nominated by the editor of "Touch: The Journal of Healing."
I told Stephen that it was clear (after spending two days trying to report on all the nominees) that there were a far greater number of these folks than I thought.
He mentioned that there are probably thousands of them, as every small-press editor may make up to six.
As he said, however, it's still a nice recognition.
• Even if you haven't been nominated for a Pushcart Prize, I'll still take your tips for Heard on the Hill sent to ahyland@ljworld.com. It would be especially great, though, if it took the form of a haiku.
Copyright 2018 The Lawrence Journal-World. All rights reserved. This material may not be published, broadcast, rewritten or redistributed. We strive to uphold our values for every story published.