Photo Gallery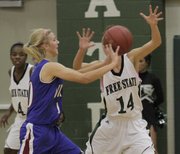 Free State girls vs. Topeka Seaman
Experience was on the side of the Free State girls Tuesday night in their season opener.
With all five starters returning from a year ago, the Firebirds comfortably withstood Topeka Seaman's second-half counterattack and controlled the fourth quarter in a 39-30 victory.
FSHS held the Vikings scoreless for the first 4:32 of the fourth, and outscored the visitors, 7-2, in the final eight minutes.
Though Free State (1-0) only led by four entering the final period, junior Chelsea Casady got the Firebirds' late scoring in motion with a baseline jumper. Junior Kennedy Kirkpatrick hit her fifth three-pointer of the night to extend the lead to nine and, later, as the final seconds ticked off the clock, Kirkpatrick stole the ball on the sideline and whipped a pass backward, over her head, setting up senior Jackie Garcia for a lay-up just before the final horn sounded.
"I think our experience showed tonight," coach Bryan Duncan said.
The Firebirds had resolve as the Vikings (1-1) began hitting more shots and opened the third quarter with a 6-0 run. Then Kirkpatrick hit three straight baskets, bookending that streak with three-pointers. She said FSHS had to answer Seaman's quick start in the third.
"We talked at halftime about just keeping our composure," she said, "because we knew they were gonna come out and make a run."
Free State made its biggest run out of the gate, opening the game with a 13-3 stretch. Senior Lynn Robinson hit both of her three-pointers in the first, and Kirkpatrick, who finished with 21 points, and A'Liyah Rogers also delivered buckets for FSHS.
Duncan said the early 10-point advantage resulted from the players' collective approach.
"I think the kids came out with a lot of energy and desire," Duncan said.
Kirkpatrick was pleased with the Firebirds' debut.
"I was definitely impressed with the way we played," she said. "I was glad that we came out strong in the first quarter, because sometimes we can wait 'til the game gets fast-tempo and start to pick it up."
Free State's teams play a road doubleheader at 6:15 p.m. Friday, at Shawnee Heights in Tecumseh.
Copyright 2018 The Lawrence Journal-World. All rights reserved. This material may not be published, broadcast, rewritten or redistributed. We strive to uphold our values for every story published.