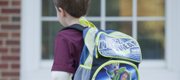 Subscribe to the email edition of First Bell and we'll deliver you the latest local education news and notes every weekday at noon.
Members of the Central and East Lawrence Elementary School Consolidation Working Group now have four more scheduled meetings to refine plans and compile recommendations for transforming a list of six schools into either three or four during the next couple years.
The conclusions are due by the end of January to the Lawrence school board, whose previous members established the group and whose current members are empowering the group's deliberations.
And, just like the school board's last advisory group along these lines — the Lawrence Elementary School Facility Vision Task Force, which recommended closing Wakarusa Valley School and convening a working group to explore consolidation scenarios — such work can come down to too much to do and too little time to do it.
Josh Davis, a member of the working group who attended many of the task force meetings a year ago, is contemplating making a request to schedule more meetings of the working group — once a week, instead of the current rate of once every two weeks — if some other way to communicate and share ideas cannot be found.
"I just fear that at the very end, we're going to be here until midnight one night, and I just fear that that it's going to get ugly at some point," Davis said as Monday night's meeting was drawing to a close, more than 20 minutes after its scheduled end. "Because that's what happened the last task force and … that's how we got formed. There's no time to decide what to do. And it's very possible, at the rate we're going, that's going to happen."
Mark Kalusha, a representative from Cordley School, had suggested forming an online forum where group members could share ideas and opinions about proposals, possibilities and processes. That way, he said, the public could see everything 24 hours a day, seven days a week, and members could accomplish something without having to be sitting in chairs at district headquarters, 110 McDonald Drive.
Kim Bodensteiner, chief academic officer for the Lawrence school district, said she would check in with the district's legal counsel to see what electronic means of communication might be available to group members looking to share information and opinions and proposals.
Chuck Epp, another representative from Cordley, suggested another possibility: The group simply could extend its deadline another two weeks, moving its last meeting to Feb. 13 if necessary.
"I don't think that anything we decide here is so time dependent that we couldn't put off a final decision for another two weeks," Epp said.
Proposals from two groups — Davis' group from New York, and Epp's and Kalusha's group from Cordley — intend to turn in their proposals by Sunday so that they can be discussed during the next meeting of the working group, set for 7 p.m. Dec. 19 at district headquarters, 110 McDonald Drive.
•••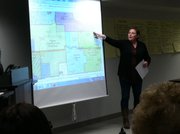 Kennedy School has two new representatives on the working group after two members left for personal reasons.
The members:
• Shonda Anderson, who had a son who spent a year at Kennedy and has another son there now in second grade. She's in her fourth year as a member of the school's site council.
• Samantha Cady, who has a son in kindergarten and another in the early-childhood program at Kennedy. She's also been active on the school's PTO.
Both say they are happy to serve on the working group, advocating for a school they love and a community they're committed to.
"It's important to keep children together who've grown up around each other," Cady said.
They take over for Stella Murphy and Amy Scrivner, who left because of personal commitments. Their departures were not related to the Kennedy representatives' decision to propose combining Kennedy and New York schools at a proposed new school at a site near the former East Heights School, said Dawn Shew, a Kennedy representative.
Copyright 2018 The Lawrence Journal-World. All rights reserved. This material may not be published, broadcast, rewritten or redistributed. We strive to uphold our values for every story published.