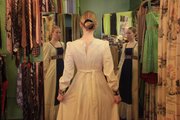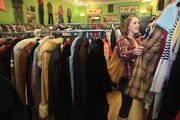 If you want to save a bit of coin this holiday season and outfit your friends and family with unique gifts, you might want to consider previously loved items.
"I think that if you want to do something a little bit more artistic and unique with a gift, that's the way to go," says Holly Charlton, manager at Wildman Vintage, 939 Mass.
Vintage and secondhand stores provide clothes, accessories, books and other items at a lower cost, while pumping up the coolness factor with their merchandise's one-of-a-kind nature. But secondhand shopping for others can be a bit tricky. It's easy to get wrong but completely rewarding when you find the perfect present.
Charlton and other local secondhand purveyors share their best tips on how to navigate their racks and stacks while looking for someone else:
Sizing
If you're buying clothes as gifts, take care with the sizing. Vintage items tend to run smaller, though secondhand shops do what they can to reduce confusion.
"The way that we size most of our things — small, medium and large — is by eye or by measurement. So like with dresses or skirts or most women's clothing, we do just by eyeing it," Charlton says. "Men's shirts and jackets are from the tag, and then our pants and jeans are the exact measurements."
Shop often
LaToya Cunningham, an assistant manager at The Salvation Army, 1601 W. 23rd. St., says her store puts out 3,500 pieces of clothing a day. Can't find what you want? Come back.
"You just have to be consistent and look more than once," Cunningham says. "Just because you don't find what you're looking for today doesn't mean that we're not going to put it out tomorrow."
Be prepared to search
No matter how many times you hit up a secondhand store, know you'll probably have to work for it. Lindsay White, a buyer at Arizona Trading Co., 736 Mass., says the hunt-and-gather nature of secondhand shopping displays a gift-giver's thoughtfulness.
"There is more of a thought process that has to go into going the secondhand or vintage route in terms of finding presents for somebody," White says. "For me, when I get gifts like that that are just one of a kind, I appreciate the thought that went into it."
Overwhelmed? Charlton suggests looking for accessories everyone needs — hats, gloves, scarves — and at accessories, like ties for men and jewelry for women. You can get several eye-catching pieces cheaply and you don't have to worry too much about sizing, she says.
Wash and wear
The care instructions for secondhand and vintage pieces vary widely, which means your recipient might be just as likely to have to hand-wash something as he or she would let it tumble dry.
Make sure to check that the care tags are intact before purchasing a clothing item. If they're not there, ask a salesperson for guidance on how to clean the garment and then pass that along to the gift recipient.
For children
Cunningham says that if you're shopping for a child, know that you'll probably have better luck with girls' clothes.
"We don't get as many clothes for little boys as we do for little girls," says Cunningham, a mom herself. "Probably because they're just rougher and by the time they're done with them there's no donating them."
Also, Cunningham notes that many secondhand shops won't stock cribs or car seats because of frequent recalls to those items, so don't expect to find much in the way of baby furniture.
Books
If you're considering buying more reading material for the bookworm in your life, Matt Kelly, store manager at The Dusty Bookshelf, 708 Mass., says to make a list of the person's favorite authors or book titles. That way, store employees can help steer you to books and authors the person might like.
Return policies
At most secondhand or vintage stores, you can't necessarily return items.
You can, however, sell back your items.
But Charlton is convinced you'll do just fine.
"The person that they are buying the gift for — I think that's the biggest concern," she says, laughing. "As long as you heart's in the right place, you'll do well."
Copyright 2018 The Lawrence Journal-World. All rights reserved. This material may not be published, broadcast, rewritten or redistributed. We strive to uphold our values for every story published.