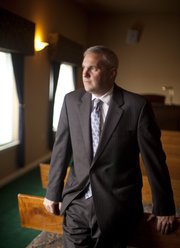 Mike Doering thinks about death a lot. A placid and professional man, Doering is not morbid. He is practical. He thinks of death in the same way a police officer ponders crime or an accountant considers numbers.
Doering thinks of death because his job is death.
Doering is funeral director for Lawrence Chapel Oaks Funeral and Cremation Services. And when the company phone rings, it is usually because someone has died.
"This is what I wanted to do," Doering says. "I enjoy all aspects of the funeral service. I enjoy meeting new people and making their loved ones appear the best they can under the circumstances. It gives me a good feeling."
The phone can ring at any time, night or day, as death is not relegated to business hours. It strikes when it wants, and when it does, Doering is ready to spring into motion so that the rituals can occur seamlessly.
"The phone is never not answered," Doering says. "A standard day with no services and no funerals, I get here at 8 a.m. ... (But) I'm on call 24 hours a day."
If, say, several deaths occur at the same time, Doering will work long hours without a break. He once worked 38 hours straight.
Whenever someone dies, Doering must complete a cascade of tasks before burial, from body retrieval to cremation.
"I do the embalming, run the crematory, dressing, casketing — the only thing I don't do is lady's hairdressing," says Doering.
When Doering hears of a death, the first thing he does is retrieve the body. He brings the cadaver to the funeral home.
Then, if the family wants a traditional funeral service, he does the embalming, which involves draining its fluids to replace them with embalming chemicals.
Doering isn't squeamish. He feels rooted and stable throughout the process.
"I just do it," he says. "This is what I do. I can't fix a car. I can't fix a computer. This is what I do. The only trouble I have is with children."
Doering's interest in mortuary science began during high school while on a school-sponsored field trip to a funeral home. He can't recall specifics, just that the trip convinced him to study the profession in college. He has been in the business for more than 20 years. Doering has watched burial practices evolve and change. One trend he's seen emerge is the personalization of the funeral. Since the 1980s, more people have requested video tributes, crafted slideshows and played music that reflects the attitude and the life of the deceased.
"People were tired of the cookie-cutter funeral with a minister that would come in say a few words, open his book and say 'insert name here,'" Doering says. "They wanted more talking about the individual and a celebration of life."
Doering has also watched cremation rates rise rapidly. Currently 34 percent of deaths are cremations, up from 14 percent in 1985. And that percentage is projected to climb to 44 by 2015, according to the Cremation Association of North America.
Doering will watch that rate closely, as he has no intention of ever changing careers. He loves his job. But because he has been a funeral director for so long, and because so many people die daily, Doering devotes special energy and attention to his interactions with the deceased's family members.
"You want to make sure that … even though you're dealing with (several) families, each (one) has your undivided attention," Doering says. "You don't want to slight or make them feel slighted in any way. This is their funeral; it's not my funeral. There is an old saying: 'We do funerals every day. The families we serve don't.' I have to remind myself of that."
And if there's one thing Doering's job has taught him, it's that death does not discriminate.
"There are no guarantees," Doering says. "Age, color, creed: death is the only certainty in this life. And it's cruel sometimes."
Copyright 2018 The Lawrence Journal-World. All rights reserved. This material may not be published, broadcast, rewritten or redistributed. We strive to uphold our values for every story published.